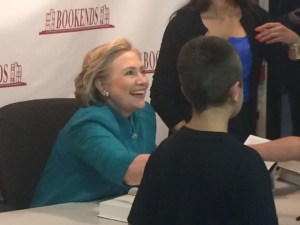 RIDGEWOOD – Former U.S. Secretary of State Hillary Clinton saved her words for those who came to Bookends bookstore in Ridgewood on Thursday to have a copy of her latest book, "Hard Choices," signed in person, not the press.
But after the smiles, salutations and shaking of hands was over, several of those who got their books signed by Clinton commented on the sense of anticipation that hung as heavy in the basement signing room as the summer humidity.
"I'm hoping that [a presidential campaign] would go in her favor, but I think it would be tight," said Danielle Reiffe, 37, a school social worker from Fair Lawn, as she assessed the potential Democratic candidate's chances in the upcoming 2016 election. "We hope to get the Democrats out in support of her, not only the women and the men in this state, but all those over 18 to vote for Hillary if she does go for it."
Ridgewood Mayor Paul Aronsohn liked Clinton's chances if she does ultimately run for president, no matter who her opposition might be.
"Secretary Clinton has a lot of supporters in town," said Aronsohn, who got his start in politics working on the victorious 1992 presidential campaign of Hillary's husband, former U.S. President Bill Clinton. "We are a very progressive state, and Hillary Clinton embodies those values. I think [Republican New Jersey Governor] Chris Christie is very out of sync with much of mainstream New Jersey. I think Hillary's support is widespread and deep. By far she's the strongest candidate out there, Republican or Democrat, because of her experience as Secretary of State and as an U.S. Senator from New York. There's people from across the political spectrum here today."
"I would like to see a woman president, and I think she can win," said Bob Heistein, 73, a retired physician from Livingston. "I think she'd have a tough time in New Jersey against Christie [if he ran for president], but I still think she would win. Christie is a local, he's done a lot for the state and there are people who support him. But I think that she's got a little bit more knowledge about foreign affairs and the economy that he does. She has more experience."
Jillian Urban, a 20-year old pre-med college student from Paramus, laughed when she recounted how she told Clinton that she loved her earrings. What she loved more was the idea of Hillary as president, even with a potentially strong GOP challenger lurking nearby.
"I think Hillary can beat Chris Christie in this state because of all of the controversies he is experiencing. I think Christie did well with Hurricane Sandy, but once that bridge scandal hit, I think people fell in love with Hillary all over again," said Urban, referencing the ongoing investigation into the George Washington Bridge access lane closures last year, also known as the Bridgegate scandal. "I think if she can win New Jersey over Chris Christie, she can do pretty well overall."