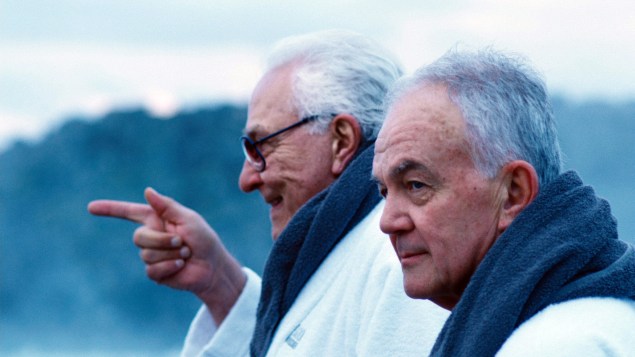 From this year's overcrowded but empty film festival circuit menu comes a rare treat—a modest little cookie called Land Ho! about two old geezers who take a vacation together to get their mojo back. The two stars are as unlikely as the film itself, but audiences are embracing them warmly. The film, written and directed by Martha Stephens and Aaron Katz, is slow as Christmas, but the two protagonists grow on you, like a Virginia creeper vine climbing a garden wall.
---

Land Ho! ★★★
(3/4 stars)

Written and directed by: Aaron Katz and Martha Stephens
Starring: Earl Lynn Nelson, Paul Eenhoorn and Daniel Gylfason
Running time: 95 min.

---
They are Ms. Stephens's second cousin Earl Lynn Nelson, an actual eye surgeon from Kentucky who takes to the camera like a cat to a litter box, and Paul Eenhoorn, a professional actor from Australia best known for the film This Is Martin Bonner. Mr. Nelson plays Mitch, a crusty and opinionated ex-surgeon, divorced with four sons he hardly knows and put out to pasture before his time, and Mr. Eenhoorn plays Colin, a disillusioned former French horn player who gave up music to work in a bank and always regretted it. They were once brothers-in-law, married to two sisters, but they never really got to know each other very well and haven't seen each other for years. Now retired and bored, they reunite, as more of a whim than a goal, when Mitch impulsively buys two first-class tickets to Iceland and invites Colin to accompany him. Both restless and unfocused, with grown children who provide no comfort in old age, sharing little more than nostalgia for the wives who left them—Mitch's deserted him for another man and Colin's died—and having nothing better to do, the guys decide to share an excellent adventure. In the course of a series of brief vignettes, they find a new definition of friendship, reach the inner Boy Scouts they thought they had left behind and discover there's a lot more to Iceland than Björk.
With no itinerary, no clock and no daily routine, they saunter through a modern art gallery, explore local restaurants, talk about the Saints winning the Super Bowl (Mitch is from New Orleans, which neatly explains Mr. Nelson's Southern accent) and connect with a vacationing cousin and her gal pal. They drink too much wine, dance a little and soak up the nightlife, flirting like they were college sophomores. This is not the same Reykjavík from when I was there, but maybe that was Luxembourg. Never could tell them apart. Anyway, the gorgeous scenery helps pass the time. Erupting geysers, hot water springs and lighthouses provide a pleasant backdrop for two disparate characters that argue and fight and reluctantly bond, sharing a beer on a windswept beach. At Mitch's randy prodding, the more reserved Colin even shares a brief sexual encounter with a lady tourist. It's a sweet portrait of macho men too old to keep up the status quo expected of active libidos, but not dead yet.
The movie coasts along on the charm of getting to know an eccentric odd couple you want to know better. At the same time, Mitch and Colin learn they have more in common than forced retirement. The film's allure lies in the affectionate friendship forged between the two men. The film's fault is that we only occasionally glimpse the small quirks and traits that define them. The script gives neither chum a real chance to explain or reveal what they really stand for. You can move just so far on the beauty of a waterfall. And the direction needs more pacing. Still, if you can't fly to Iceland and you're looking for a mild, felicitous way to spend a stress-free 90 minutes in the toxic waste of summer movies, Land Ho! is a trip worth taking