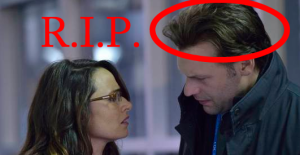 (Spoilers for House of Cards, Boardwalk Empire, The Walking Dead, Breaking Bad and Corey Stoll's head below.) 
In some rare cases, killing a TV show character off changes the landscape of the entire show itself. Zoe Barnes on House of Cards. Jimmy Darmody on Boardwalk Empire. Lori Grimes T-Dog on Walking Dead. Well, here we are again, television fans. Although it hasn't happened yet, the producers of FX's The Strain have revealed the latest TV death that is going to shock the country, nay…the world.
Ephraim Goodweather, played by Corey Stoll, is going to lose that godawful hair. "If you know the books or where it's heading, we needed the character to change his look, to be able to mix into the normal population without being seen," Guillermo del Toro explained. "We needed him to have a look that could be altered…and unless he grows a beard or has an eye patch, we needed somewhere for him to go." (Ed. note: Wait, can't it be all three??)
Did we…did we win some sort of victory? Has there ever been one single aspect of a character that was so lambasted that the producers had to be like, "Calm down, it's not forever." Like, what if Vince Gilligan had said, "People, we know Walter is abusing Skyler but she's going to fuck Ted in three episodes. Relax."
Personally, I think this is a case of not knowing what you have until it's gone. When the show premiered, I was physically and emotionally offended by how bad that widow's peak was. Everyone was. But now that we know that it isn't long for this world, what are we going to make fun of on The Strain? (Besides the dialogue, the Nazi Vampire, Walder Frey swinging a sword, the worms, the racially stereotyped Mexican youth, or Eph's booooooring custody battle).
At a time like this, it's better to look back at the good times than remember the sad. Join me, won't you, in remembering some of Mr. Stoll's hairpiece's finest moments.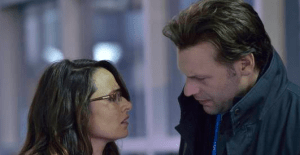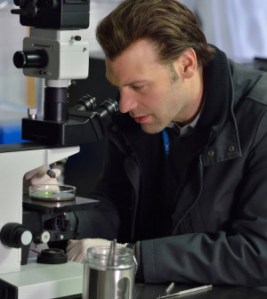 Rest in piece, my friend. Now, what was del Toro saying about an eyepatch?