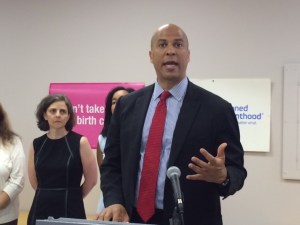 MONTCLAIR – U.S. Sen. Cory Booker (D-NJ) expressed his support for a Democratic-backed bill being pushed in the U.S. Senate designed to override the U.S. Supreme Court's decision in the Hobby Lobby case and impel for-profit employers to cover the full range of contraception for their employees, a health-care provision required by the Affordable Care Act.
Booker, who is co-sponsoring the proposed bill, which he called the "Not My Boss's Business Act," spoke out in response to the high court's June 30 5-4 decision, which ruled that many private companies, including plaintiff Hobby Lobby craft stores, were allowed to seek an exemption from the contraception mandate if they could name a religious objection to providing health plans that include some forms of birth control.
"This week I know the Senate will be voting on legislation that is a response to this decision," said Booker on Monday in remarks made at Planned Parenthood NJ headquarters in Montclair. "The reason is very simple, plain and obvious – access to contraception is essential to a woman's right to make responsible and personal decisions about their health. The reason that we are here is that simple ideal that a woman should have the right to make their own contraception decisions. It is not their bosses' business, it is their business. A woman's health care decisions should be between a woman and their doctor, and there's no room in that equation whatsoever for the employer, or the boss.
"Birth control is basic health care for women. Ninety-nine percent of women will use birth control in their lifetimes," Booker added. "This isn't a partisan issue. This isn't a red state or blue state issue. This is an issue that affects all women, and giving them the freedom to make their own contraception decisions…It's unbelievable to me that now, this day in 2014, we are still fighting about whether women should have access to birth control."