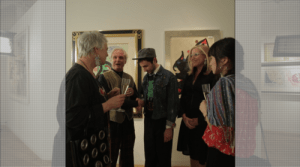 The way we consume media is changing. There's more to pay attention to, and with a seemingly endless mess of digital content, we find ourselves paying attention to the snaps, vines and tweets that take up as little of our time each as possible.
So it's about time television shows found a new medium, which just so happens to be the smallest screen you watch — the 612px X 612px Instagram screen. The app's first TV series, "Artistically Challenged," which premiered its first seven 15 second episodes on Tuesday, follows Nick, a young NYC artist as he struggles with failure and looks to stand out. He finds instant fame after telling a white lie but soon finds it comes with a price.
"It's an NYC story. There's so many people trying to make in in NYC — an underdog story," Aleks Arcabascio, told Betabeat. Mr. Arcabascio created the show alongside fellow NYU Tisch alumni Jeremy Boros and Samuel Delmara. The trio worked with 25 friends, 30 volunteer professional actors and dozens of NYC locations from a nightclub to the fake jail cell in Moynihan station.
Betabeat spoke with Mr. Arcabascio and Mr. Delmara to learn more about the series.
What inspired you to make a TV show for Instagram?
A.A. — Everyone we know is on Instagram, but not everyone has a TV. All our friends spend their time, whether it's on the subway or waiting online for a real movie, on it. So we figured if that's how people are using their time, we want to tell a story that way.
Tell me about the plot. Why art in NYC?
S.D. — Initially, a lot of the plot actually came form Jeremy. He mentioned the fact that we haven't seen a lot of TV shows specifically geared at the art world, and living in NYC, you're always exposed to it. We thought it'd be fun to explore the world we didn't know much about and learn more by doing research, meeting people in it and creating a story around it.  The series is both paying respect to the art world, because obviously, to a certain extent we like to think we're a part of it as storytellers, but also a satire of the NYC art scene, the mystique around it, and the people in that scene.
What were some of the challenges of framing your story by 15 second intervals?
A.A. —  The whole idea of doing a continuous story this way is a creative limitation, but doing anything easy, that wouldn't be an experiment and would't be worth our while. Top to bottom, we knew we were doing it for Instagram and wrote it, cliff hangers and all, with 15 seconds in mind. And every time we filmed, it'd be in a little square. When you're filming a close up like this, even of the main actor's face, it's the size of a postage stamp, so you have to direct people differently.
What was your favorite part of this project and filming for Instagram?
S.D. — This is one of the bigger shoots I've done with the most actors and locations. In two weeks, we shot an average of two or three locations a day, so for me, it was shooting such a wide array of places. It was fun to explore NYC behind a camera. A lot of those places were provided by friends and people we met putting the script together, so that was a blast for me.
Filming this must have been crazy. Can you tell me a fun anecdote from the production process?
A.A. — This was a pretty bizarre [shoot], and I've worked on all sorts of things, but nothing like this before. When we filmed at the Martin Lawrence gallery in SoHo, they welcomed us with open arms. We walked in there, let them know what we were doing, and they thought it sounded awesome. We got there our first day of shooting actually, and as I'm shooting the first frame, there's a lot of art, really expensive modern art, and I thought it'd be great to get more bright color, so I asked if we could move one of the pieces so we could get it in the shot. I looked back and saw this big bright red and yellow painting. He said, 'that one over there? The Picasso? It's $350,000.'  I said, 'oh,we can get another one," but he said it was fine, so it's funny that made it into our series.
Are you planning any more Instagram shows or cool projects?

A.A. — We'd love to do season two. People are loving it and asking about it. We ended with a cliff hanger, and let's just say things don't get a whole lot easier for Nick over the course of the show. 

The first seven episodes of "Artistically Challenged" can be viewed exclusively on Instagram at @actheseries. The remaining 25 episodes will be released, one per day, starting July 7.