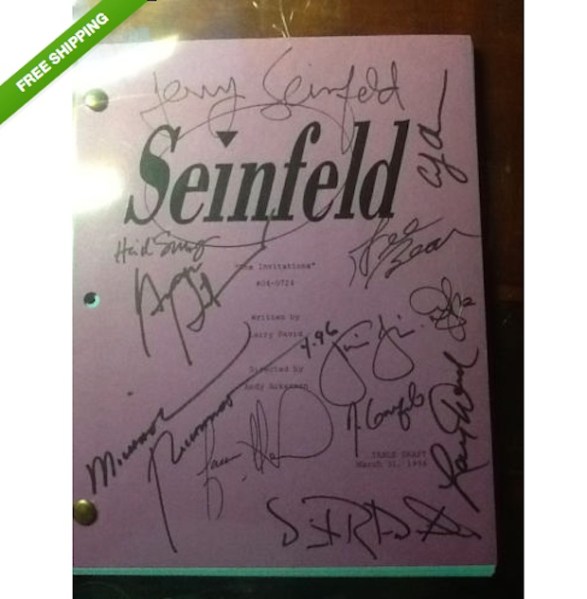 If you are still expelling Jujubes from the excitement of Seinfeld's 25th anniversary, consider making a bid on this signed script of episode 134, "The Invitations." Better known as "The One Where Susan Dies." (Spoiler, I guess. Though if you are genuinely upset about me ruining Seinfeld for you, maybe you should get off your mom's computer because you are a baby. Not even a really old person, because my grandmother knows about Seinfeld. You are literally a two-month old baby, trolling the Internet with your angry comments about spoilers. Get out of here, baby, before you find something weird.)
Just don't bid $18,000, because that is too much money to pay for most things, but especially a thing that is a script from 18 years ago. Yes, it has the signatures of the cast, director, and hilariously, "Lee Bear (who was always seen from behind as Mr Steinbrenner)." But if you are that rich that you can spend that much money on something that inherently has so little value, you probably already know Jerry Seinfeld. Just ask him to autograph the receipt for your new Mercedes or something.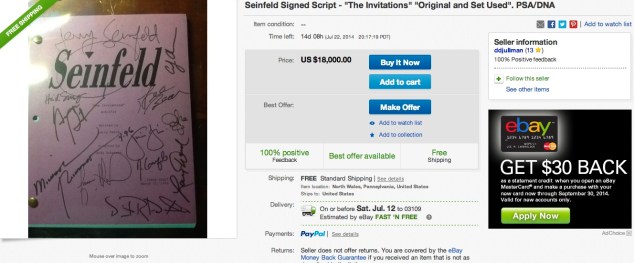 I don't know. Buy it if you want. But it's a bad investment. It's also currently the most expensive television memorabilia product on Ebay, which probably says something about the state of culture today.
[youtube https://www.youtube.com/watch?v=rxDK-gjx_48]