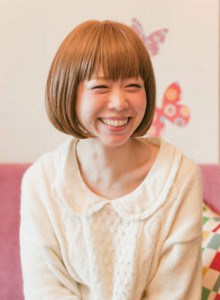 Megumi Igarashi is being held by Japanese authorities on suspicion of breaking obscenity laws, the Guardian reports. Ms. Igarashi isn't suspected of flashing someone, or even sexting. Instead, she was arrested because she scanned her vagina and distributed the code for it to be 3D-printed.
Ms. Igarashi was hoping to turn the code into a vagina kayak, as one does. She considers herself a deco-man, or decorated vagina, artist. In the past, she's made dioramas, bracelets and T-shirts modeled after her own vagina.
How did Ms. Igarashi get into deco-man? "I had not seen pussy of others and worried too much about mine," she says on her crowdfunding page. "I did not know what a pussy should look like at the same time I thought mine is just abnormal… I wanted to make pussy more casual and pop."
Removing pointless stigma is always a good mission — unless you're the Japanese police, apparently.
As the Guardian points out, Japanese authorities have resisted pressure to ban pornographic images of children in manga comics and animated films — but an adult woman crowdsourcing a 3D-printed boat that's shaped like her own vagina is apparently a criminal.
Ms. Igarashi has reportedly told the authorities that she doesn't consider a few lines of code to be obscene, and that she didn't send any photos of her genitalia, the Japan Times reports. As of the most recent reports, she's still being held.
We're left wondering, though: does this mean that in Japan, it's illegal to photocopy your own butt?