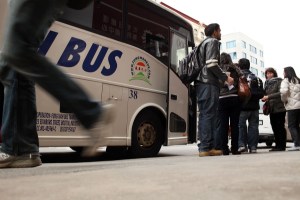 New Jersey commuters may not be able to hitch a cheap ride from West 42nd Street for much longer.
Hot on the heels of an announcement that Chinatown's curb buses would face regulation in August, the so-called "Jersey Jitneys" that shuffle passengers between Midtown and New Jersey are experiencing pressure from the NYPD, DNAinfo reports.
The unpermitted shuttle buses take passengers through the Lincoln Tunnel, often for as little as $3, but are either being fined or kept from picking up commuters waiting on the sidewalk by the Port Authority Bus Terminal, passengers and workers for the jitneys said.
Community Board 4 chairwoman Christine Berthet said the jitney companies have been uncooperative, and are not working with the board to find new pick-up sites or file intercity bus permits.
The cost and the efficiency of the unpermitted jitneys is the draw for regulars like Axel Hellman, who rides the buses into Manhattan from Jersey.
"There are a ton of buses that serve that route on New Jersey Transit, but it's just not enough," he told DNAinfo.