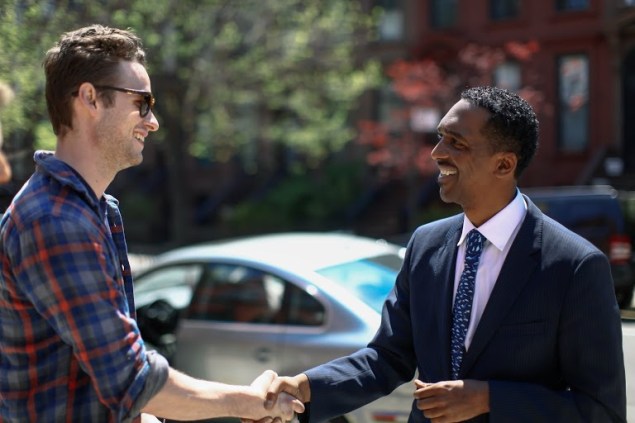 State Senate candidate Jesse Hamilton will today file a suit to attempt to boot primary rival Rubain Dorancy off the ballot in September–claiming Mr. Dorancy does not reside in the district formerly represented by now-Borough President Eric Adams, a source close to the Hamilton campaign told the Observer.
The insider said that Mr. Hamilton, a Democratic district leader and former aide to Mr. Adams, alleges that Mr. Dorancy, an education activist, has repeatedly claimed an address outside the district as his primary residence. The lawsuit brought in Brooklyn Supreme Court also charges that the address inside the district where Mr. Dorancy registered to vote last year, which allowed him to file to run for the seat, actually belongs to Mr. Dorancy's father.
The suit alleges that Mr. Dorancy claimed the out-of-district address as his primary residence in order to take a New York State School Tax Assessment Reduction, the source said, and listed it as his primary residence during foreclosure proceedings in April. The suit also reportedly claims that Mr. Dorancy has registered two vehicles at the out-of-district address, and that Mr. Dorancy's wife and children still reside there.
The source also said that the suit purports that Mr. Dorancy's father filed for an enhanced STAR exemption at the in-district address, claiming that he was the only person living there.
Legal precedent in New York State requires voters to only register to vote at their "principle and permanent address."
If successful, the suit would leave Mr. Hamilton as the only candidate for the seat, as Community Board 9 member Demetrius Lawrence dropped out of the contest earlier this month. The central Brooklyn-based seat has been vacant since Mr. Adams became borough president in January.
Mr. Hamilton's camp blasted Dorancy as an out-of-touch outsider attempting to deceive residents of the district.
"If you don't live in the district, you simply can't understand and feel the pressing needs of the families that live there," said spokesman Nathan Smith. "The facts are clear, Bloomberg flunky Rubain Dorancy has been dishonest with voters about his residency and appears to have tried to defraud the taxpayers of New York. We have enough fraud and criminality in Albany, we certainly don't need to send yet another dishonest person to Albany."
The Dorancy campaign said in a statement that Mr. Dorancy was born, raised, and still resides in the district, and serves on the school board there. His team blasted Mr. Hamilton for they claimed is an attempt to duck a discussion of neighborhood concerns.
'"This baseless accusation is simply a distraction—a bag of tricks used by the other  candidate  in a desperate  attempt not to address the real issues facing our community," said campaign manager Mutale Nkombe. "The residents of this district are keenly aware that we are running a transparent  campaign that is and will continue to be about our fight for the creation of affordable housing, the improvement of our public schools, increased public safety and the creation of good paying jobs for our community."
Updated to include comment from Mr. Dorancy's and Mr. Hamilton's campaigns.