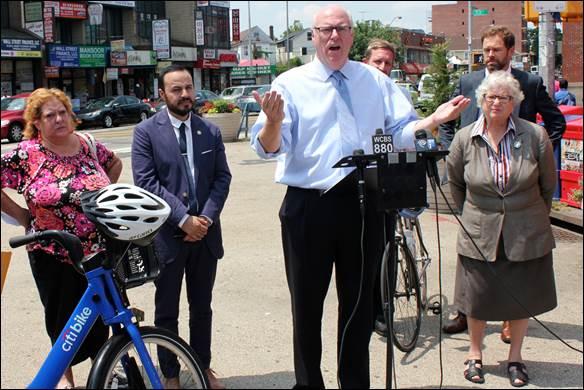 Queens and Bronx Congressman Joe Crowley announced this afternoon his new national "Bike to Work Act," which would give CitiBike users the same tax breaks already granted to train and car commuters.
Mr. Crowley, who also serves as the Queens Democratic Party chairman, said his legislation would allow commuters using bike share programs nationwide to pay for their membership from their pre-tax income–which federal statutes already allow for public transportation and parking expenses. The move would encourage more people to use CitiBike, Mr. Crowley said, which would lead to the extension of the service further into into the outer boroughs.
"This will provide CitiBike with the revenue it needs to expand in Queens," Mr. Crowley said at an event in Jackson Heights, Queens.
Mr. Crowley said that the budget office had yet to calculate the cost of the proposal to the federal government, but Mr. Crowley argued that the benefits of the bill would far outweigh the expenses.
"This will promote the healthy choice of commuting by bike," the elected said. "It will contribute to taking more cars off the road, reduce traffic congestion, and improve the air we breathe."
The congressman said that he was not just spinning his wheels, either, as Senator Chuck Schumer has proposed similar legislation in his chamber. While Democrats control the Senate, Mr. Crowley is in the minority in the House of Representatives and could have trouble moving his legislation.
State Senator Toby Stavisky, a Queens Democrat, was also on hand to applaud Mr. Crowley's initiative.
"Biking to work is good for the environment, it's good for the traffic congestion we see here on Roosevelt Avenue, it's good for your health, and it's good for New Yorkers' wallets," Ms. Stavisky said, though she added she herself would not be pedaling to her job anytime soon. "Please don't ask me to bike to Albany!"