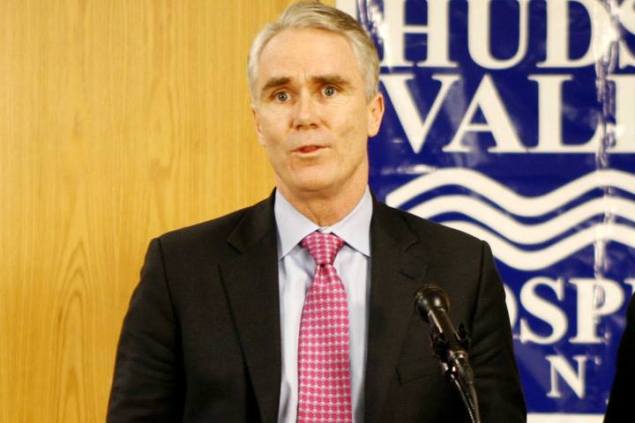 Republican attorney general candidate John Cahill's $1 million-plus campaign haul included $20,000 from conservative hedge fund manager Sean Fieler, known for his controversial statements about homosexuality and his activism against abortion.
Mr. Fieler, president of the Equinox Partners hedge fund, was the second largest individual donor to Mr. Cahill's effort to unseat Attorney General Eric Schneiderman. The Wall Street leader sits on the board of the American Principles Project and the Chiaroscuro Foundation, which have run various pro-life advertising campaigns, and he founded a new PAC in February to push conservative social values.
He also attacked the concept of gay marriage in an interview with the New York Times last year.
"It promotes a very harmful myth about the gay lifestyle. It suggests that gay relationships lend themselves to monogamy, stability, health and parenting in the same way heterosexual relationships do. That's not true," Mr. Fieler told the Times.
Mr. Cahill's camp stated that the candidate is pro-gay marriage and–though he personally opposes abortion as a Catholic–said if elected he would enforce all pro-choice protections in New York State law. The team added that contributors' social views have nothing to do with their support for Mr. Cahill, a former chief of staff to ex-Gov. George Pataki.
"People donate to John because they believe in him and know he will be the best choice for attorney general, not because of their personal beliefs," said Cahill spokesman David Catalfamo. "First and foremost, Mr. Cahill's belief is that the job of the Attorney Genneral is to enforce the laws of the state of New York."
Mr. Fieler did not immediately respond to requests for comment.
Republican gubernatorial candidate Rob Astorino has also drawn criticism for accepting $25,000 from the banker.
Mr. Schneiderman's camp declined to comment on the contribution.