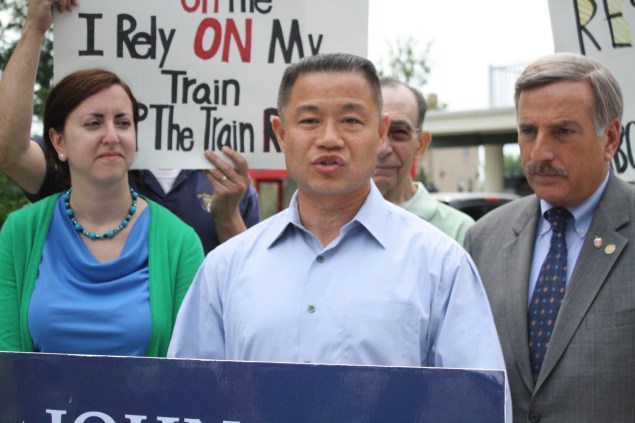 No mayoral endorsement, no problem.
That's the attitude John Liu had today when pressed about Mayor Bill de Blasio's decision to endorse his opponent, State Senator Tony Avella, in the race for the eastern Queens seat that Mr. Avella currently represents.
"It doesn't really matter," Mr. Liu, the former city comptroller, said at a campaign event in Bayside, Queens today. "It is what it is. I think it won't affect the outcome of the election. The voters here are very independent-minded and are going to make the judgment for themselves."
Mr. de Blasio and Mr. Liu, along with Mr. Avella, served in the City Council together and Mr. Liu lost to Mr. de Blasio in last year's Democratic primary.
"I had not asked any body for their endorsement beyond the local electeds I proudly have the endorsements of," Mr. Liu added.
Mayor Bill de Blasio announced this week he would be backing Mr. Avella, a member of the Independent Democratic Conference, over Mr. Liu, who is supported by the Queens Democratic establishment. The endorsement came after Mr. de Blasio helped broker a deal for the IDC, a group of five breakaway Democrats governing the senate with the Republican Party, to enter into a coalition with the Democratic Party after the fall elections.
As a result of that deal, Mr. Liu lost out on Mr. de Blasio's endorsement and the labor-backed Working Families Party's nod. The powerful liberal party initially endorsed Mr. Liu but decided ultimately to remain neutral: in exchange for the IDC's decision to work with the Democrats, many labor unions were forced to withdraw their support for primary challengers to IDC members.
Mr. Liu was also unworried about losing the WFP support. Several unions have remained loyal to the former city comptroller.
"I'm happy to have the support of many of the unions who make up the Working Families Party and that's where the boots on the ground comes from," he said. "I'm very gratified that the troops from the unions who have already endorsed have been out here and helping with our petitions as well as knocking on doors."
Mr. Liu is still counting on the support of the Queens Democratic Party, an organization that has been long alienated from Mr. Avella. At a press conference calling on the Metropolitan Transportation Authority to avert a possible Long Island Rail Road strike, Mr. Liu was flanked by two Queens assembly members, David Weprin and Nily Rozic.
"I am very proud and happy to have the support of every elected official in this area that has some overlap with the district," Mr. Liu said. "That's what counts."