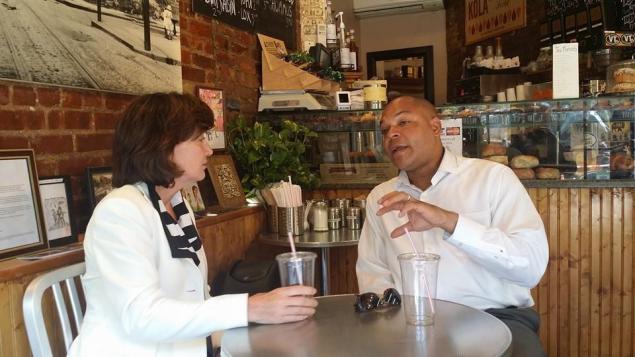 Brooklyn Assemblyman Karim Camara told the Observer that his meeting yesterday with Gov. Andrew Cuomo's running mate, ex-Congresswoman Kathy Hochul, left him completely satisfied with her stances on firearms and immigration issues–even though her positions on gun control and undocumented immigrants while in the House of Representatives largely contradicted Mr. Camara's own.
During the year and a half she represented western New York in Congress, Ms. Hochul was known for opposing programs for foreign nationals and restrictions on firearm ownership–in contrast to Mr. Camara's outspoken support for immigrant amnesty and gun control in the Assembly. But Mr. Camara said that his conversation with Ms. Hochul revealed a great deal of common ground, though he refused to specify what the lieutenant governor hopeful said.
"There's nothing wrong with sticking up for the right of people, hunters, to own guns," Mr. Camara said, recalling in his youth crossing his uncle's property in upstate Orange County. "What we have to do is everything in our power to eliminate illegal guns in our streets, and I think she gets that."
Mr. Camara, the chair of the Assembly's Black, Latino and Asian Caucus, was similarly vague but pleased about Ms. Hochul's remarks on immigration reform.
"I left the meeting comfortable with her position on the issue," said the legislator. "As someone who is a progressive in this state, there was nothing voters in New York City and upstate New York would find offensive."
Some observers have noted Ms. Hochul's near-invisibility in the campaign thus far this year, and some saw her meeting yesterday with Mr. Camara as part of an effort to dispel such complaints. Mr. Camara said he did not know exactly how the meeting had been scheduled, but mentioned he had been in constant contact with the governor's office.
Amid the criticism that she'd been sparsely seen, other elected officials also tweeted photos of meetings with Ms. Hochul today and yesterday, including Council members Dan Garodnick and Donovan Richards.
Ms. Hochul, who will appear on the ballot separately from the governor, will face college professor Tim Wu–running mate of fellow academic Zephyr Teachout, a challenger to Mr. Cuomo–in the Democratic primary.
Ms. Hochul did not immediately respond to requests for comment.