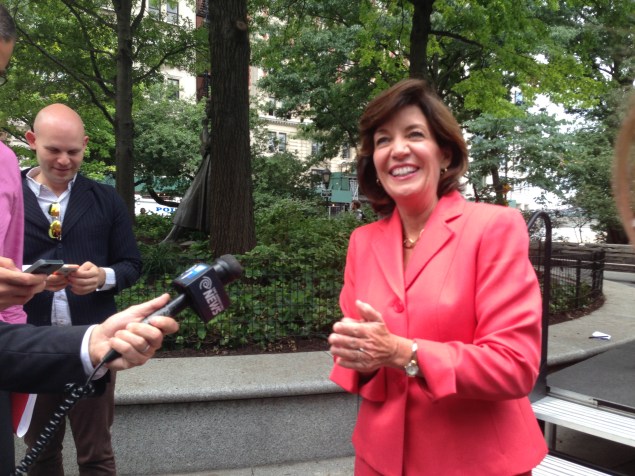 Despite what her opponents charge, former Congresswoman Kathy Hochul said Thursday she hasn't been hiding.
"I understand their criticism—when you're in their position you throw whatever you have out there and see if it sticks, and clearly it's not the case," Ms. Hochul said.
Ms. Hochul, a Democrat running for lieutenant governor alongside Gov. Andrew Cuomo, had been knocked by both her Republican opponents and her primary foe, Tim Wu, for not being visible along the campaign trail. New York Post columnist Fred Dicker wrote she was being kept out of sight due to her conservative positions on certain issues, like immigration and gun control.
But at an event announcing the creation of a "Women's Equality" ballot line for the general election, Ms. Hochul said she spoke to the press within 24 hours of her announcement in Buffalo, and then came to New York, where she implied her appearance garnered little interest.
"Within 48 hours of being a candidate, I stood on the steps of City Hall here in New York, invited all of you to ask any question you wanted. I stood there with just a couple of bloggers and a couple of reporters," she said. "I've made myself accessible and I'm very flattered by the attention on the race."
In recent days she's been meeting with a slew of groups, she said, representing different constituencies throughout the state. Among them have been Hispanic lawmakers, with whom she's been discussing her views on immigration. But while Council Speaker Melissa Mark-Viverito told reporters last month Ms. Hochul's views on the matter had "evolved," the candidate herself would not use that word.
"I think it's important that that the position be clarified," she said, saying that's what she'd done in her recent meetings. "I think the vast majority understand the position where I was seven years ago."
Back then, as a county clerk, Ms. Hochul was opposed to issuing driver's licenses to undocumented immigrants. Her husband was heading up counter-terrorism efforts with the U.S. Attorney's office, she said, and her county's border crossings had seen "incidences where people came across the border intent to do harm to this country."
"It was that context, as a national security matter, that I didn't feel that I could properly give a license to someone when I didn't know what was going to happen—because that license allows them to get on a plane, and God only knows where they would go with that," she said. "That was the situation. People that I've spoken to understand that dynamic."
She emphasized her "100-percent support" of the Dream Act. But even though New York City's municipal I.D. program won't allow people to board planes, Ms. Hochul seemed lukewarm on that, too.
"Each municipality has control of their jurisdiction," she said.
But she pointed out concerns raised by groups including the New York Civil Liberties Union about how the database of undocumented immigrants would be used. "Even something like that, I think there's a lot of questions to be asked."
Pressed again if her stance had "evolved," Ms. Hochul dismissed the notion of the term. "Evolved is a media question," she said. "I explained the circumstances to you."
With all the focus on some of her conservative views, before the group of women Ms. Hochul emphasized her "100-percent pro-choice record" in Congress and how she came under attack for supporting the president's contraceptives mandate.
"When I served in Congress I saw firsthand what happens when the Tea Party and ultra-conservatives take control and see what they're capable of. And I didn't think it could get any worse folks, I really didn't," she said.
Jessica Proud, a spokeswoman for GOP gubernatorial candidate Rob Astorino, knocked the entire idea of the "Women's Equality" line Ms. Hochul was promoting—saying Mr. Cuomo should be ashamed of himself—and Ms. Hochul's sparse appearances predating it.
"It's nice to see her finally stepping out and talking to the press when she's been doing events in secret," she said.