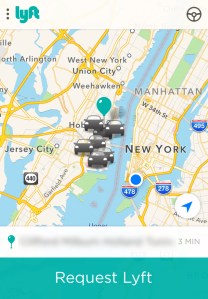 After much debate, Lyft, an app-based ride sharing service, finally launched across the five boroughs on Friday. Only problem? New Yorkers are having a hard time actually catching a lift.
With a limited number of drivers–thanks to TLC's regulations–Lyft was already working with a smaller than usual driving force. Add 50 free rides for new New York users, deemed "Lyft Pioneers," and the service has been overwhelmed to the point that no one can use it.
In attempting to request a Lyft car last night, I opened the app like many other hopeful New Yorkers, ready to use one of my free rides. Yet after a quick registration, the app found my location and came up short. No available drivers. Content with waiting an hour to try again, I hopped back on the app (an Uber competitor) only to find that there were no unoccupied drivers in my area, again.
Whichever location I told the app–Upper East Side, SoHo, Chelsea–the result was the same. No drivers.
In fact, the only drivers in the entire area seemed to be in Hoboken, and even then there were only seven. For four hours, I checked back. I even tried the app in the morning, thinking what a treat it would be to skip the subway and head to work in pink-mustachioed style.
Alas, there were no available drivers. I was relegated to an unairconditioned subway car.
It looks like taxis and Uber do not have much to worry about after all.
Update: Lyft spokesperson Paige Thelen told the Observer that any Pioneers unable to use any of their 50 free rides in the next two weeks will be reissued that promotion.
"Lyft's first few days of beta launch in New York City have received overwhelming support, with hundreds of TLC-licensed drivers completing thousands of rides," she said. "This is a clear demonstration that New Yorkers want more transportation options, and we are working hard to balance high demand with more and more drivers."