On June 30th BuzzFeed published an article titled "What Happens When a Prep School's Black Student President Mocks her White Male Classmates," Katie J.M. Baker's account of former Lawrenceville School student body president, Maya Peterson, 18.
In many words, Ms. Baker accredits Ms. Peterson's impeachment to an Instagram photo and the "wealthy white male" Lawrenceville students that voted her out. Now, in response, some of her peers claim that the photo is only a fraction of why Maya Peterson was impeached by her own student government.
The prestigious Lawrenceville School, which operates a two-strike policy for expulsion, gave Maya Peterson a major strike freshman year for cyber-bullying a Sikh student. Her junior year, anonymous photos of Ms. Peterson smoking marijuana were sent to the student body and to the administration. Although Ms. Peterson opted for medical leave instead of receiving her second strike, her rebellious and non-presidential behavior was well-known to her constituents. Thus, when Maya Peterson posted the "Lawrenceville boi" Instagram mocking nearly 55% of the Lawrenceville students in her senior year, the student council she presided over impeached her. Ms. Peterson chose to step down.
Following the Buzzfeed report, Ms. Peterson has been met with widespread support online, with largely positive articles on Daily Mail, New York Post, Time, MTV, Gawker, Jezebel, Perez Hilton and even Yahoo! Canada. However, the response from the majority of the Lawrenceville community was not so loving.
To answer Ms. Baker's catchy title, what happens when student council politics transforms into racial narrative is that an ex-student body president becomes a cyber martyr.
In an interview with the Observer, Ms. Peterson, a New York City native, explained herself, as a person, a Lawrenceville School graduate, and now, an internet celebrity.
"I think everything that [Kate Baker] wrote was true, but not the full truth–there's a lot more to the story," says Ms. Peterson. "I totally admit that I have made mistakes. I have never personally argued that I should've remained the president of Lawrenceville," reflected the former Lawrenceville president, who is heading to Wesleyan College in the fall.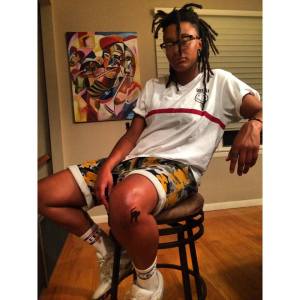 Ms. Peterson says that she began making "mistakes" as president after the anonymous photos of her drug usage floated around the school.
"The fact that someone did so much to blatantly hurt me and the school seemed like they didn't even try to investigate it for more than a day really hurt my feelings and really made me feel uncomfortable there," says Ms. Peterson.
Thus, Ms. Peterson could not lead with the passion she had promised to the people who elected her, she explains.
When asked if the Instagram was a response to her personal pain, she responded:
"I think so. My frustration with the entire situation definitely got the best of me at the end of the [presidency]."
For many Lawrenceville students like Ryan* '14, that Instagram was the "final straw."
"It wasn't because of race, or class, or money, or history, or any other factor that she [was] forced to step down," he told the Observer.
William* '14, who requested anonymity, declared, "The blackest thing about Maya Peterson is her dad's AmEx card."
Most Lawrentians are far more concerned with the blow against the school delivered by Ms. Baker's Buzzfeed article.
P. Nash Jenkins '11, a Time intern and journalist, was deeply troubled by Ms. Baker's "fabricated narrative" of "cherry-picked facts to fit her argument" of Lawrenceville and Maya Peterson, which he characterized as "journalistically inexcusable."
"Her general thesis — prep schools are institutionally racist; rich white guys are elitist — is uninspired and banal," Mr. Jenkins said. "A conversation about bigotry in America's private schools is a conversation well worth having, but taking [it] to fucking Buzzfeed to write some shameful hack job undermines legitimate progressivism."
Another Lawrentian wrote a blog post titled "In Defense of Lawrenceville" faulting Ms. Baker:
"The real villain of this story is that clown of an author, Katie J.M. Baker," pens the blogger. "[Ms. Baker] doesn't give two shits about Maya or what she stands for, all she cares about are those sweet, sweet page views. She's using Maya as a liberal martyr to ignite flame wars in the comments and further line her pockets with ad revenue."
The ex-student body president wants to get one thing straight in a flurry of cyber bullying, social media fame and poorly executed Instagram photos:
"I absolutely love Lawrenceville it is such a cool amazing place where I learned so many amazing things, please include that in your article," she pleaded over the phone.
Ms. Peterson did not even approach Ms. Baker herself. Although Ms. Peterson fell out of popular favor her senior year, she, like her peers, feels misrepresented by Buzzfeed:
"The Buzzfeed article made it seem like I went out to BuzzFeed and I was like 'F Lawrenceville, they suck, everyone there is racist' and that's totally not at all what I said. And totally not my sentiments in the interview at all."
Even though Ms. Peterson felt misrepresented by Buzzfeed, "I'm proud of myself for getting the conversation started, regardless of the way it came about."