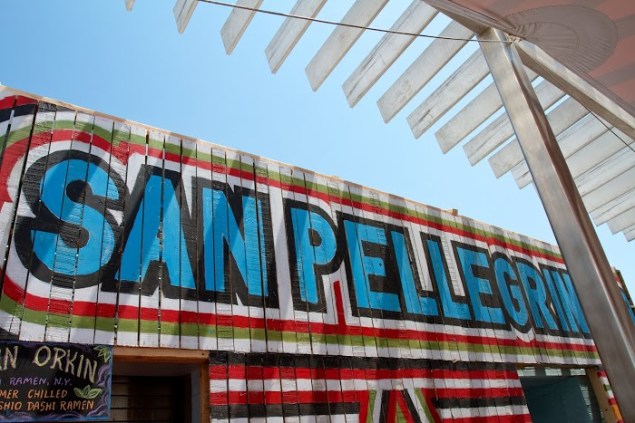 This weekend Le Grand Fooding threw its yearly "food party," with Rockaway Beach as the venue of choice. Running from Friday July 11th through Sunday the 13th, the French operation, delightfully dubbed "Fruitstock," roped in local food joints and star chefs alike to feed their patrons a delicious three-course meal along the beach and raise some much needed cash for the Rockaway rehabilitation effort. From chilled lemon shio dashi from Ivan Ramen to cornmeal crostini sopes care of Rockaway Taco, the spread was not what one might call typical beach fare. In honor of the event's sponsor, Sanpellegrino, the chefs involved put an Italian spin on their usual dishes, trying to bring to mind Italian beaches through their artistic food creations.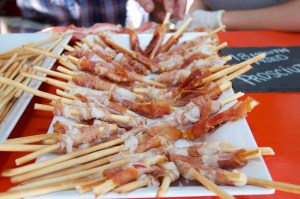 Le Fooding is an organization dedicated to a "new Michelin," challenging the conventions of fine dining according to the Le Fooding Guide. Their movement strives to make gourmet food more accessible and less elitist, with the word "fooding" itself a portmanteau devised by founder Alexandre Cammas from the words "feeling" and "food."
Le Fooding was started 15 years ago and has served as a forerunner of the foodie culture that is exploding right now in America; from gourmet food trucks to the litany of Instagram pictures and food blogs, it seems that Le Fooding's goal is becoming a reality.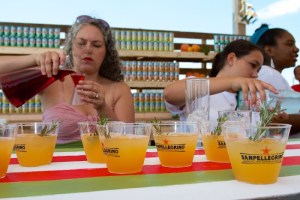 The event took place at Le Fooding's very own Beach Club, where picnic tables were dotted with fabric markers so that event-goers could color in their complimentary tote bags, designed by French design company AAAAA. Diners listened to a quirky juxtaposition of music from DJs Cibo Matto, Jona Bechtolt, Claire L. Evans, and Nancy Whang alternated with the New York Brass Band.
As the partying was for a good cause, 10% of the $40 ticket prices went to Graybeards, the charity responsible for most of the money raised to rebuild the Rockaways after Hurricane Sandy devastated the area two years ago.
The Rockaways are rapidly growing into a hub for eclectic and ethically sourced food. After the area was devastated by Hurricane Sandy in 2012, the food culture has become a driving force behind New Yorkers coming out to support the Rockaways and its rehabilitation.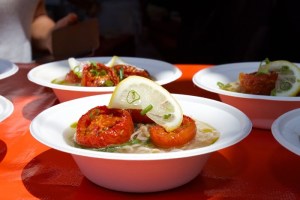 "It's interesting how food totally changed the area," said Le Fooding event organizer Anna Polonsky. "I think that's the story we want to highlight." Stories are what Le Fooding is all about. Their past events have been almost theatrical in the way that they bring food to life; from a tribute to the love affair between Paris and New York in their first 2009 event to a retrospective on food trends of the past in last year's "Time Mach'Inn." The "story" told at this year's event was of the Rockaways and just how special the Rockaway food culture is.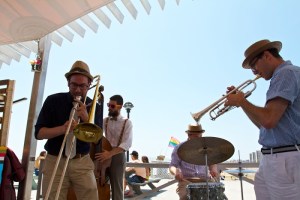 "A lot of other beaches you go to in New York, it's your typical hot dog, hamburger, and french fry kind of joint. It's super unique [on the Rockaways]," said owner of the Borders and St. James surf shops Jimmy Dowd. "You have everything from Venezuelan food to Bolivian food to Uzbekestan to Japanese to fresh clams and seafood and lobster rolls – it covers everything."
Locals hope that this event will help to show people how far the area has come since Sandy, the final dredging ending just two weeks ago.
"A lot of New Yorkers don't know that the Rockaway is totally rebuilt; they still think it's flooded and terrible. They'll see that it's totally fine. I think, actually, that it's more beautiful than it used to be," Ms. Polonsky said. Co-event organizer Victoire Louapre was quick to add with enthusiasm, "It's about these people's story… food is fun, but it can do great things for the community."
This weekend Le Fooding did just that. It told us the story of the Rockaways through unique, and varied cuisine and the amazing community that is finally nearing the end of its long convalescence.