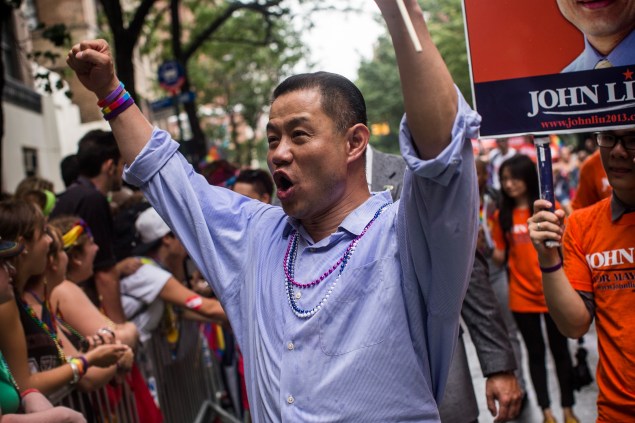 The Retail, Wholesale and Department Store Union endorsed State Senator Tony Avella's re-election bid on Monday. Three days earlier, they were filling the coffers of his enemy.
RWDSU, one of the more influential unions in the city, gave $1,000 to John Liu's campaign on July 11 and a local chapter kicked in an additional $500 on July 7, according to campaign finance records released today. The union said they were "proud" to support Mr. Avella on July 14, but still managed to donate cash to the former comptroller trying to drive him out of office.
For the union, it was a decision to honor a previous agreement to Mr. Liu–and navigate the political reality of a recent power-sharing deal.
"The check to Liu reflects a commitment the union made to him prior to their endorsement in the race. That contribution was separate from their endorsement process," said a source close to RWDSU.
RWDSU, like many labor groups across the state, is now committed to bringing a Democratic majority to the State Senate after the Independent Democratic Conference, a group of five breakaway Democrats that includes Mr. Avella, agreed to govern the senate with the mainline Democrats after the fall elections. The IDC currently governs with the GOP, angering many liberals, and agreed to work with the Democrats if labor groups pulled their support for primary challengers to their caucus.
Several challengers to IDC members backed away, but Mr. Liu did not. A contender for mayor last year, Mr. Liu is close to many of the unions in the state including RWDSU. The Queens Democratic Party, long alienated from Mr. Avella, is also remaining behind Mr. Liu despite the new power-sharing deal.
The RWDSU contribution was just one more piece of good financial news for Mr. Liu. Though he was tainted by a fund-raising scandal last year that led to the convictions of campaign staffers, Mr. Liu dwarfed Mr. Avella's fund-raising haul: relying on a combination of local corporations and small donors from around the nation, Mr. Liu pulled in more than a half million dollars for his eastern Queens bid.
Mr. Liu's campaign declined to comment. Mr. Avella's campaign did not immediately return a request for comment.