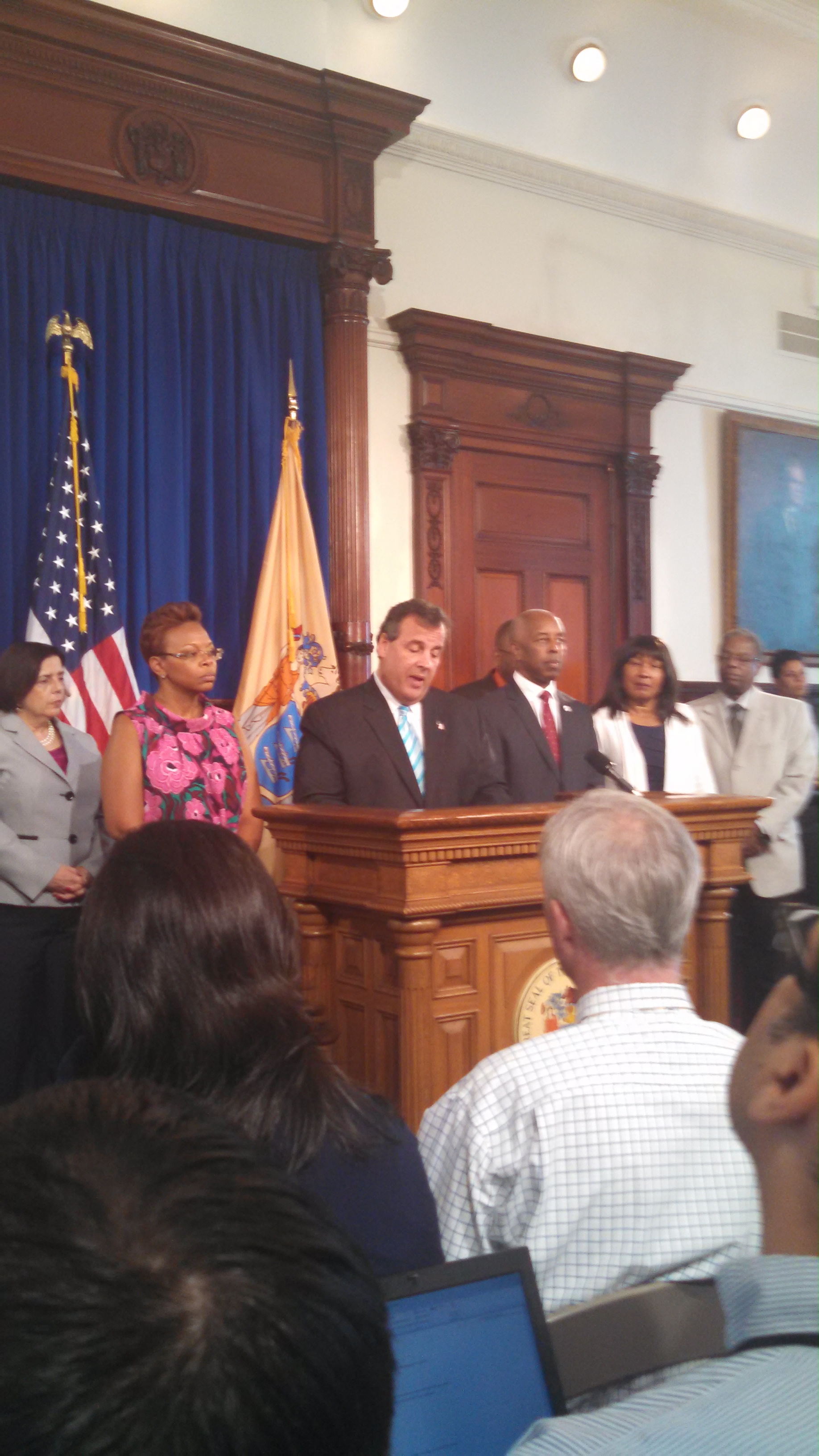 TRENTON – With 36 hours to go before the Legislature reconvenes for a special session to address a controversial bail reform package — and four days before an official deadline to get it passed — Gov. Chris Christie today reiterated the need for Republicans and Democrats to get behind the legislation.
"We've worked together to achieve bipartisan legislation, and showed it was possible to put aside our differences and conventional politics to fix something that needs fixing," Christie said at a press conference here today. "Unfortunately though we are out nearly of time to act. Legislators are running the risk of running out the clock of getting this done for an entire other year. That's just not responsible and not acceptable."
Hyping up the benefits the package — which includes two parts, an amendment (SCR-128/ACR-177) that would eliminate the state's constitutional guarantee of bail to all defendants and gives judges the ability to detain violent offenders, and a companion bill (S-946/A-1910) that would establish bail alternatives for non-violent offenders — Christie state the need to reform the state's criminal justice system, and urged the Assembly to get behind the legislation.
"This doesn't make any sense. How can we allow a system to continue to exist that fails our core, that fails those who pose no risk to our communities, and that fails our citizens, because we're allowing dangerous criminals to walk free because they can afford to?" he asked. "It's not a fair system. It's not a system that makes sense."
"Tomorrow the Senate and the Assembly should post and pass this constitutional amendment and the bill, that would finally overhaul this system," he added.
He said this legislation will bring New Jersey law in-line with the federal system, adding he's confident state judges "will act responsibly" in making using discretion when determining which offenders are too dangerous to grant bail.
Calling it an example of "good government," Christie said he's confident the package will be supported during the special legislative session tomorrow — though it's unclear how close the two houses — but particularly the lower house — are to garnering enough votes to get the bill passed.
Christie called the Legislature into special session earlier this week, much to the chagrin of some lawmakers, who see it as a strategic effort by the Republican to bolster his image ahead of a possible 2016 presidential run.
The constitutional amendment must be passed by Monday in order to appear on the ballot in November, and some Democrats in the Assembly have said they won't approve that part of the package without the companion bill.
Yet Christie said he believes the "overwhelming majority of the legislature" is behind the package, and pledged to "work with as many groups as I can to make sure this happens this week."
"I know that some of the legislature aren't happy about me reviewing this litany and are certainly are not happy about coming in during their summer vacation to get this done," Christie, after offering a number of examples of repeat violent offenders he said were enabled by a "broken" system, said.