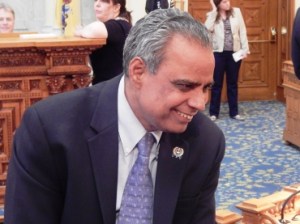 ELIZABETH – Sources have told PolitickerNJ.com that veteran state Assemblyman Upendra Chivukula (D-17) is in line for an appointment to the Board of Public Utilities (BPU). But according to Sen. Ray Lesniak (D-20), three words to the wise might apply to Chivukula – not so fast.
"I haven't decided yet," said Lesniak in a Tuesday night conversation with PolitickerNJ.com.
Lesniak is a strong ally of state Senate Judiciary Committee Chairman Nick Scutari (D-22), who in many ways holds Chivukula's BPU fate in his hands.
Chivukula, a Somerset Democrat and an engineer by trade, is coming off a hard-fought loss to state Assemblywoman Bonnie Watson Coleman (D-15) in the June Democratic primary for New Jersey's Twelfth Congressional District seat. Some Middlesex County Democrats remain irked with Chivukula for competing in the primary against their favored candidate, state Sen. Linda Greenstein (D-14).
Another aftereffect of CD 12 post-primary fallout involves Lesniak, who was displeased that Chivukula teamed up with some of his main local foes, the members of the Elizabeth Board of Education, during the primary campaign.
When pressed by PolitickerNJ.com about when he would decide whether or not to support Chivukula, Lesniak told an apocryphal story about two world leaders.
"It's like when Zhou Enlai, [Chinese leader] Mao Tse-Tung's premier and foreign minister, was asked by [former U.S. Secretary of State] Henry Kissinger what he thought of the French Revolution," Lesniak said. "Enlai said, 'It's too soon to tell.'"