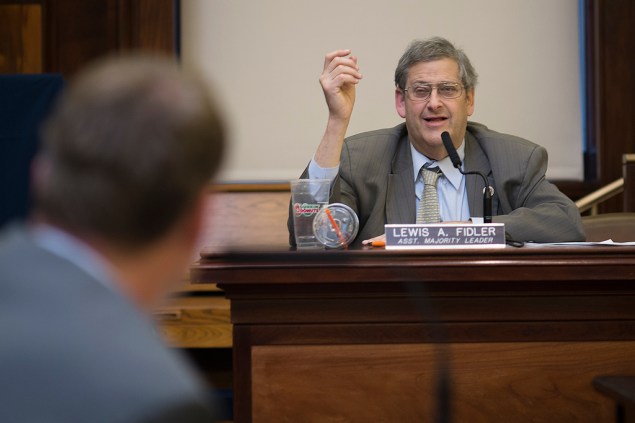 One of the few spoils thrown the Brooklyn Democratic Party's way after Melissa Mark-Viverito became speaker of the City Council is headed back to Brooklyn.
Lew Fidler, a former Brooklyn councilman and longtime ally of the Brooklyn Democratic machine, is leaving the speaker's office to work for Brooklyn Borough President Eric Adams, a spokesman for Ms. Mark-Viverito confirmed to the Observer.
"I will be ending my work with the General Counsel's Office this week. I want to thank all that I have had the pleasure of working with not only during my tenure at the GC's Office, but during my 12 years serving on the Council," Mr. Fidler said in an email sent to council staff today.
"Now for the next news. … good or bad depending on your perspective. I won't be going far. I will be joining the staff of Brooklyn's Borough President Eric Adams starting next week. While I am not exactly sure of the title (Deputy General Counsel for Intergovernmental Relations?), my job will include working with the Council on issues of policy, land use and finance on behalf of Eric and the people of Brooklyn. So, I'll still be around, but just on the other side of the fence in a way," he added.
Mr. Fidler, an attorney, joined the General Counsel's office in March. Democratic sources told the Observer that Mr. Fidler's hire came at the request of the Brooklyn Democrats, who provided key votes for Ms. Mark-Viverito in last year's bitter speaker's race.
The move to Mr. Adams' office, sources say, came after Mr. Fidler grew disenchanted with working for the speaker. Mr. Fidler found himself with less clout than he had hoped.
"Fidler thinks he's a genius and wasn't used to being a staffer who wasn't in the inner circle," a Democrat source said. "He was getting boxed out."
Eric Koch, a spokesman for Ms. Mark-Viverito, had only kind words for the former councilman.
"The Speaker thanks Lew Fidler for his many years of public service to Brooklyn and New York City, both as a member of the Council where he chaired the Youth Services Committee and then in the General Counsel's office and wishes him well as he continues to serve New Yorkers at the Brooklyn Borough Presidents Office," Mr. Koch said.
Mr. Fidler declined to comment.