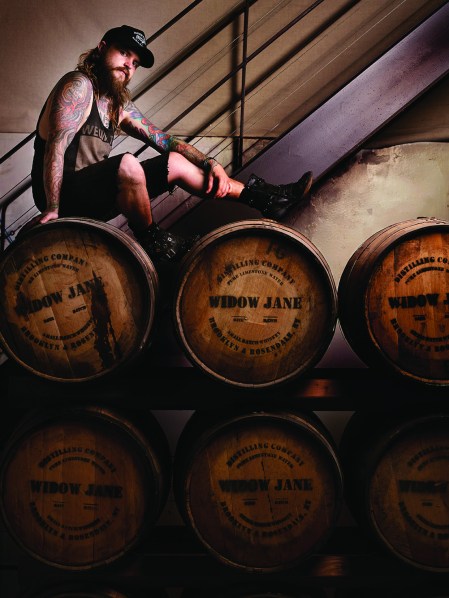 "The great thing about this place is it's hot in the summer and really cold in the winter," said Vince Oleson, head distiller for Widow Jane, the Red Hook-based whiskey brand, as he led me into the building at 218 Conover Street for a tour of the facility on a steamy summer afternoon. But really, who cared about insulation when there was bourbon to be had? 
After offering me a glass of their flagship spirit, Mr. Oleson took a sip and said: "Mmm. It's good right now. It may not be optimal temperature, but warm whiskey is just always so nice." 
No complaints here. With a 21 percent rye content, one can easily detect the purposeful spiciness in Widow Jane bourbon—the idea being to avoid what Mr. Oleson calls the "empty middle" of wheated bourbons, like Maker's Mark. Still, the real secret to the brand's success is its water.
"That's what makes our spirits so rich and delicious," Mr. Oleson told me, as we headed to the building's temperature-controlled basement, where, among the hard-at-work chocolatiers and 44,000 pounds of raw cacao (more on that in a bit), there are three large tanks of water taken from the Widow Jane mine in Rosendale, New York. 
Formerly excavated for limestone, the Widow Jane mine was abandoned in the early-1900s. "For the last 100 years, it's just filled with rain water," explained Mr. Oleson, "and the water has been filtering through the limestone rock, picking up all these great calcium and magnesium deposits. It's technically a hard water but it yields a lot of softness on the palate."
While the recipe for Widow Jane bourbon is fairly traditional, according to Mr. Oleson, the distillery's path to existence was anything but. Indeed, to tell the creation story of Widow Jane, one must begin with the owner of the operation, a man named Daniel Prieto Preston. 
A "mad genius," in the words of Mr. Oleson, Mr. Preston is a former aerospace engineer who found himself staring down the wrong end of a strict five-year noncompete from the U.S. military. (Mr. Preston originally used the building in Red Hook as a parachute factory.) During that forced downtime, he traveled to his family's cacao plantation in the Dominican Republic and returned to New York with a new business idea, founding Cacao Prieto—the chocolate, liqueur and rum producer—from which Widow Jane was born.
The ethos of innovation lives on at Widow Jane. In addition to the customized machinery, courtesy of Mr. Preston, they are currently experimenting with heirloom corn varietals, such as Bloody Butcher, which has an unusually high protein content, and Hopi Blue. "We're kind of paving new territory when it comes to bourbon," said Mr. Oleson. "These corns were prevalent for the Native American cultures, and we want to showcase what they can do for a whiskey."
The head distiller also let me sample an as-of-yet unreleased chocolate bourbon, which is made using Wapsi corn and chocolate malted barley. "We're a chocolate factory," he said, "and we wanted to represent that, but we didn't want to be gimmicky. This is a similar barley you'd find in a stout or a porter." (Keep an eye out for a fall release.)
The Widow Jane folks are also looking forward to launching an American single malt, according to Mr. Oleson. And who knows which of their other experiments, such as dandelion rye, will one day make it into a bottle? 
"We want to change the way people look at the grain that goes into their whiskey," said Mr. Oleson, adding that Widow Jane, like Cacao Prieto, has control over every aspect of its process, beginning with the agricultural production. "I think that's what craft spirits are about—focusing more on the ingredients, getting more expression of the grain."
So is this an art or a science, I wondered? Mr. Oleson paused. "Well, because we're doing things that haven't really been done in distilling before—or in fermentation, or whatever the case may be—we kind of have to have an element of art behind it," he said. "We take risks. But to back that up, we do it in a scientific way. We're very by the book as far as our cuts and measurements. We understand the chemical reactions.
"Ultimately," he continued, "we just want to make the best whiskey possible."
***
HOW TO DRINK WIDOW JANE BOURBON, $57
Because of its high rye content, Widow Jane bourbon does especially well in classic cocktails like Manhattans. Still, Mr. Oleson insists you can't go wrong however you drink it. "Personally, I love it neat, because I'm just a whiskey nerd," he said.