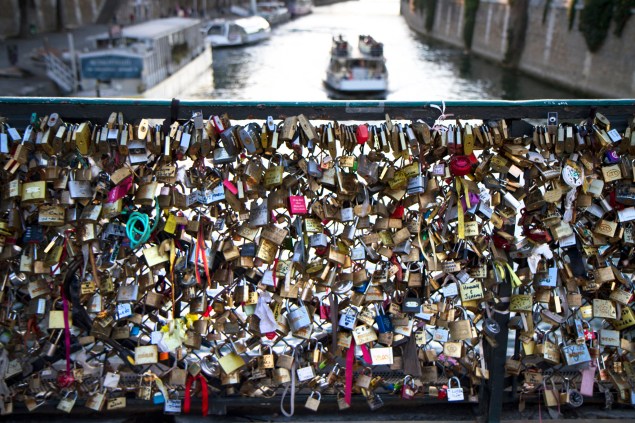 Just one month ago, men and women confusing New York for Paris took to the Brooklyn Bridge to lock down their love.
Now that it has become too mainstream and the Department of Transportation caught on, New Yorkers are eternalizing their commitment to one another on the Manhattan Bridge, according to the Brooklyn Paper.
So far, ten locks have appeared on the Manhattan Bridge's chain-link fence, a small number compared to the 4,000 that the DOT cut down from the Brooklyn Bridge in June because they posed a hazard to drivers and pedestrians below.
That may not be the only hazard though. Just last month, a section of the Pont des Arts bridge in Paris (where the trend originated) was evacuated after it collapsed from the weight of locks upon locks fastened to the fencing.
Not everyone is so bitter about all this love in the air, or on the city's infrastructure.
"I think it's awesome. It looks like art when there's a lot of them," said Flo Hausler of Zurich, to the Brooklyn Paper.
It's only a matter of time before the city goes all Edward Scissorhands on the Manhattan Bridge's locks though, so lovers: to the Tappan Zee!