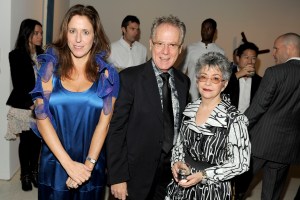 After a decade and a half at the Guggenheim, Betsy Ennis is leaving her position as its director of media and public relations, she announced this morning in an e-mail obtained by Gallerist.
Here's the note:
"Dear Friends in the Media,

I'm writing to let you know that after 15 years, I am leaving the Guggenheim to start a new business with Andrea Glimcher called Hyphen. Our collective experience with artists and estates, collectors, museum directors, curators, and the media, uniquely positions us to advise and connect different entities in a new and independent way.

I have derived immense pleasure from working with you to shape stories on Guggenheim exhibitions and initiatives, and I hope our paths will continue to cross. Rest assured, you can continue to expect the high level of attention from my very talented colleagues in the Media and Public Relations Department: Lauren Van Natten, Associate Director; Keri Murawski, Senior Publicist; and Molly Stewart, Associate; under the direction of Eleanor Goldhar, Deputy Director and Chief of Global Communications for the Guggenheim Foundation.

It's been a privilege to be part of the Guggenheim these 15 years, as well as an honor to work with you. I look forward to keeping in touch.

Warm regards,

Betsy"
Ms. Glimcher started Hyphen after departing Pace Gallery, where her ex-husband, Marc Glimcher, is the president. Last May, The New York Times reported that Hyphen had been hired by developer David Levinson to select the artwork and installations at 425 Park Avenue, which will be designed by Norman Foster.