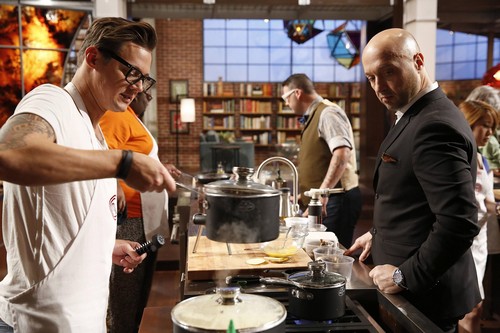 It's the MasterChef sweet 16. As the home cooks take their stations we see video of Tyler talking to the camera about he's a small town boy, shucks, and something else humble. You know Tyler, the guy that wears camouflage every week. That camo is so good that producers forgot he was there the past four weeks. The judges are all on the stage and Graham says, "It seems like we've put you through a lot already doesn't it? But trust me, we're just getting started." Crap, I didn't even need to start recapping till now. From now on I don't start really paying attention to a reality competition show until a judge says, "We're just getting started." Lesson learned, let's get to the mystery box.
What is in that box? Tyler is hoping for rabbit or squirrel because the others are less experienced with cooking stuff they ran over with their car. Christine, I don't know who she is either, says she can "get down and dirty with some bone marrow." Now the squirrel sounds more reasonable. Gordon gives the three count for everybody to lift their boxes and the Mystery Box challenge is, a bunch of cans. Everyone has the same 52 cans but with no labels. Finally they're cooking how I'm living. The home cooks have 60 minutes to make a dish using the at least one of those cans and the staple pantry box containing milk, eggs and flour. Willie is confident because where Willie's from, "everything we do is in a can." Willie could use a big win. Ahran is not used to cooking with canned food because she grew up using fresh ingredients. Too bad, hippy. Your non-processed, GMO-free life has just met a can full of reality.
The clock has started ticking and everyone is franticly opening cans to see at least some of what they have. The judges meet in the pantry to look at the 52 cans sitting open. There are chickpeas, baby corn, olives, fruit salad, beet root, spinach and a bunch more. I saw SpaghettiOs. The first home cook to open that can, heat, and serve should win. The judges say the key is to use the pantry box to make something and just add a can or two of something. Willie opens a few cans and decides to make eggs benedict with potted meat. Elizabeth is making a creamy borscht with a potted meat topping. Ahran opens up a few cans and decides to bake a cake using the pantry box and use the canned fruit as a filling. Jaimee doesn't know what do and might start crying. A breakdown is always a welcome addition to an episode. Gordon checks out what Victoria is making and points out that she really hasn't done much so far. Victoria thinks this challenge will put out her there as one of the people to look out for. She's deep-frying potted meat fritters. Battered spam balls just put Victoria on top with me. Nobody's going to live forever. With that amount of salt, forever = 58. Jaimee decides to just make a soup. The judges are tasting dishes the whole time. The top three will be selected based on the tasting and the final appearance. So far the judges seem to like Elizabeth and Ahran. Willie's eggs benedict is dismissed as boring. Time's up.
The judges take their final look and select the top three. First one called is Elizabeth. It's her first time in the top three with a creamy borscht with peas and ham. All the judges love it. Victoria is next. Another top three first timer. Her potted meat fritter comes with a spicy ketchup and an artichoke and beet salad. Victoria used 8 cans and the fritters have five different kinds of meat in them. Big hit with the judges. Gordon points out that the dish does not look great but says it "delivers a punch of flavor." The third up is Ahran who made a rolled sponge cake with fruit and flavored whip cream. Joe praises the Ahran for being smart with using the pantry box, making a soft sponge cake and having the courage to use only one can. Gordon's only criticism is that cake could use a little more color but says that Ahran has the biggest balls in the competition. I guess that's a compliment. Just last week Leslie was telling Ahran that she needed to grow some balls. Gordo has got to get with the post-gender movement before he finds himself on the wrong side of a hashtag. Looks like Ahran is the stand out. The winner of the Mystery Box challenge gets to go back in the pantry with the judges and receives a huge advantage in the next challenge. The Mystery Box winner is…commercial break…the mystery box winner is…Elizabeth. I was hoping it was going to be Ahran because the last time she was in the pantry she said the b-i-t-c-h word.
The judges and Elizabeth go back in the pantry to discuss the next challenge. The way it usually goes down is the Mystery Box winner doesn't have to compete in the elimination challenge and gets to select the challenge dish from a choice of two or three dishes. This time there are two special guests in the pantry, the reigning MasterChef champ Luca and the MasterChef Junior winner, 14-year-old, Alexander. Their signature dishes are the part of the elimination challenge. The dishes are Luca's pancetta wrapped veal with radicchio and apples and Alexander's passion fruit panna cotta. What's panna cotta? Some Italian dessert so it's probably slimy, tastes like perfume and everyone likes it except me. Looks like a dessert that disappoints children but is made by child. Alexander might be a self-hating kid. Anyway, Elizabeth is told she is not going to select one or the other. Her advantage will be revealed in the kitchen. Gordon does the big intro of Luca and Alexander. They get a hero's welcome. Elizabeth gets to choose who will cook the veal and who will cook the panna cotta. Elizabeth chooses Cutter, Christian, Jaimee, Christine, Ahran, Francis B., Victoria and Tyler to make the panna cotta. Elizabeth says she wants to assign the panna cotta to the people that don't have the finesse to pull it off but gives the dessert to Jaimee who is always killing it on the sweet challenges. The rest have veal. Both dishes look difficult. Everyone tastes the dishes they are going to make. Courtney tells the camera that she can taste how "perfectly balance"d the veal is and realizes that she has a "really good pallet." Courtney then declares that she's going to "kick this dish's ass."
There are 60 minutes on the clock for this challenge. Everyone heads to the pantry to get the ingredients. Willie doesn't know what radicchio looks like so he's already in trouble. To be fair I don't know what it looks like either but it sounds green to me. The judges discuss the complexities of the two dishes. The veal needs to be pounded out to be thin, as if those calves haven't been through enough already, and cooked perfectly. The panna cotta, that Joe pronounces panna coat-ah, is cooked cream held together by gelatin that has to be measured perfectly and needs to set for enough time. Gordon asks Courtney why she thinks Elizabeth chose the veal for her. She thinks it's because Elizabeth sees her as a threat and thought she couldn't handle it. Looks like Courtney is doing everything right though. She's pounded out the veal thin and wrapped it tight in plastic wrap and plans on searing it. Gordon kind of fed her those lines but she confidently agreed. Courtney is a stripper and does seem to be favored by the judges but she also has proven herself to be probably the best home cook. Don't worry, Willie. You're still my dude. You can take it all the way. Wait a minute. Gordon checks on Willie and sees that he's searing his veal. Willie tells Gordon that he is going to the wrap it in the pancetta and cook the veal again in the oven. Oh no, that's not how that's cooked. Gordon and Luca take a big dump on Willie's method. Luca says something about walking before running. Not sure how that applies, but Willie has screwed up. Graham asks Alexander who looks good to him and he says that Jaimee is cooking the panna cotta properly and that Tyler's looks good. Jaimee goes to pull her panna cottas out of the blast chiller but one of the three are missing. Who swiped Jaimee's panna cotta? This is the first theft in MasterChef history.
The 60 minutes are up and somebody is going home. Courtney is up first. Her dish looks just like Luca's. When she describes it to Gordon though she uses a ridiculous breathy whisper voice that sounds like she should be singing "happy pancetta wrapped veal, Mr. President." She's trying to get every advantage she can but it won't work on me. I'm like a doctor. She still nails the dish. Willie is next. Double-cooking the veal was a big mistake because while the sauce and radicchio were good, the veal was dry. Gordon says that Willie has one foot out the door. Christian's panna cotta is "like a cheese cake" (that's bad). Cutter's panna cotta is surprisingly good. Jaimee's panna cotta is a mess. It tastes good but it's not standing up. If only she had that third one that went missing. Next up is camo Tyler. His panna cotta is also not standing up but how does it taste? There are a few people who could be going home at this point. Hold everything! Tyler's mess of a desert isn't even his own mess; he stole Jaimee's panna cotta! Dun dun dunnn. Gordon believes that it was an honest mistake. Tyler claimed that it was. I don't think he's so innocent. The judges deliberate to make a call on the stolen dish. They agree it's a mistake but rules are rules. Tyler is going home. Good thing a crime was committed because it saved Willie. Pull it together, Willie. America needs you.