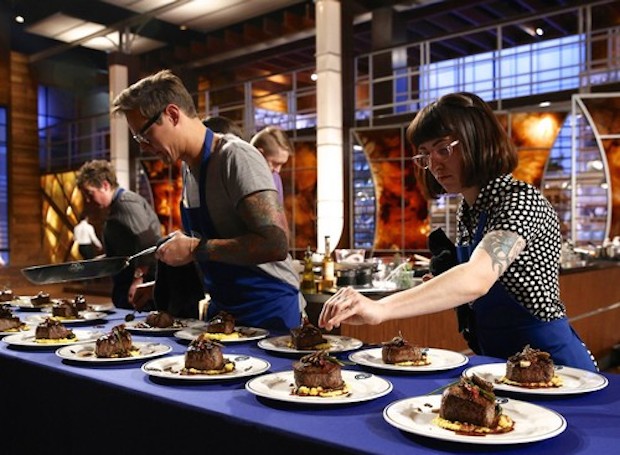 We're down to the dirty dozen as the 12 remaining home cooks enter the MasterChef kitchen. We see a clip of Elizabeth talking about how she misses her husband. Too bad, lady. You're married to the stove until you win or get the boot. The judges are on the stage. They explain that there is a team challenge this week but there is no road trip. They will be cooking in the MasterChef restaurant. Tables were brought on to the MasterChef set to make it look as fancy as an upscale suburban strip mall fusion restaurant. The theme of the meal is love. The teams will be serving 17 couples who are all in love, or so they claim.
The team captains are Elizabeth (Blue Team) and Ahran (Red Team) because they had the best dishes in last week's elimination challenge. Ahran already doesn't like the challenge because she has never been on a date before. Aw, sorry to hear that, Ahran. Good news is that you probably just got asked out on a thousand dates by Twitter creeps. Since Elizabeth had the best dish she gets first pick and it's Francis. Ahran then picks Willie. Elizabeth goes on to pick Jaimee, Victoria, Courtney and Daniel. Ahran picks Christine, Christian, Leslie and got stuck with the last pick, Cutter.
The teams have an hour to prepare their meal. An hour after the main course is served, dessert needs to be ready. The couples will be served both dishes and vote together for one of the teams. The teams huddle up in the pantry to decide on the dishes. Ahran and the Red Team are making a lobster risotto topped with a butter poached lobster and a raspberry milk chocolate tiramisu for dessert. The Blue Team is preparing a medium-rare filet mignon with potato and beet puree and the dessert is a sponge cake with a salted caramel, dark chocolate, strawberries and nuts.
Judge talk: what does Gordon do to create romance with his wife? He says they leave the kids at home, check into a hotel, drink some pink champagne and share a filet beef wellington for dinner. Sounds great if you're a millionaire. When I date a woman with kids I have to find a restaurant with a ball pit.
The MasterChef restaurant is open and the loving couples are being seated. They all seem to be celebrating either a dating or wedding anniversary. These couples are so in love that they decided to spend their anniversaries eating a free dinner on a soundstage at 3 p.m. Ahran tastes the lobster that Leslie and Cutter have been working on. It's a bit bland. Christian yells at them, "You guys gotta start tasting your shit, man." Cutter shuts him down with, "We got it, Christian."
Gordon announces that there is one open table that is reserved for the single most important person in the world. OMG, is it Obama or Jeter? Neither, it's Gordon's wife Tana. She enters to all the home cooks' applause and comments about her looks. There are clips of Daniel and Courtney making comments about Tana's beauty. Calm down, guys.
Ten minutes left. The Ramsays sit at their table in the restaurant. Gordon then commands that all the couples have an awkward across-the-table kiss. Elizabeth wants to do a test plate and Victoria discovers that the filets are too rare. Victoria throws the filets in the oven hoping to get them a little more cooked in the remaining time. With only minutes left, the teams plate their dishes and then get them out just in time. The teams have to get right to work on their desserts.
The entrees are served to the couples. Gordon and Tana try the lobster risotto first. They both agree that the lobster is delicious but the risotto has too many onions for Tana. The Blue Team's filet is too rare for Tana so Gordon let's her eat the outside part that is more cooked. They both enjoy the beet puree. Joe talks to a couple celebrating their 65th wedding anniversary. The wife thinks the filet is too rare but the husband says it's the best steak he's ever had. They have since divorced.
Desserts are being prepared and Elizabeth is worried there isn't enough time to get everything done. The Red Team is having trouble plating their tiramisu with only 15 minutes left. Cutter is freaking out. Ahran tries to calm him down but it's pretty late to be figuring out how to serve the dessert. There's no way the Red Team will get this done. Hands in the air! All the desserts for both teams are done and look great. That's the last time the MasterChef producers get me nervous that a dish won't be finished. It always gets finished.
What do Mr. & Mrs. Gordon think? Tana thinks the tiramisu looks a bit clumsy. They both say the chocolate is delicious but they can't taste the raspberry. The Blue Team dessert has too many strawberries and too much cream but Lana comments that it's the more flavorful of the two. This sounds like it's anybody's game. A couple gets engaged but let's not get into the details of why that is embarrassing and just wish them well. The couples now get to vote on for which team served the best food.
The votes are in and the Blue Team killed the Red Team with over 75 percent of the votes. The Red Team will face the pressure test. Yikes, it looked so close but Ahran lost this one big and she's feeling pretty bad about it.
The Red Team enters the kitchen in black aprons. The Blue Team is up in the balcony watching to see who is going home. Graham reveals that the pressure test will be truffles. Each home cook will have to make a box of nine chocolate truffles. There have to be three different kinds of truffles in each box. Oh good, another dessert challenge. Isn't chocolatier a completely different gig than chef? No matter. Make the chocolates or go home.
Cutter is worried because he's never made chocolates and he stinks at every competition. He's been ready to be kicked out for weeks. The judges talk about the challenge and Graham thinks it's the hardest one they've ever had. Joe and Graham check in with Cutter. Cutter knows he's in more danger than anyone if he doesn't nail the chocolates. Graham tells Cutter that everyone thinks he's going home so that should be incentive for him. None of the home cooks have made truffles before so Cutter has a shot at being second worst for another week. How's Ahran? She is feeling overwhelmed. Gordon tells her, "You can't let that one little defeat get you down." Ahran takes a deep breath and tries to pull it together.
The judges get together to talk about who's in trouble. Joe and Graham think Ahran is vulnerable because she's lost her confidence and she's never been in a pressure test. Joe points out that Cutter is always at the bottom of dessert challenges and expects the same tonight. Gordon disagrees. He thinks Cutter is going to make a huge comeback. Is Ramsay nuts? Cutter is the worst. Christine is running behind with her truffles. Joe and Graham stop by to check on her and they seem a bit worried about where she's at. Everybody is rushing as the last seconds tick down, then it's hands in the air.
Cutter is up first with whatever crap he stuffed in that box. Graham steps up and shoots Cutter straight, saying that the last few weeks haven't gone too well. Cutter made mint, orange infused and coconut truffles. Graham asks Cutter to rate his truffles one to 10. Cutter gives them about a seven or eight. Let's take a look. He opens the box. "Visually these are a 10." GTFO! But they probably taste like garbage, right? No. Graham tastes one and says it's perfectly balanced. He even gives a Cutter a fist bump and blows it up. How about Joe? He says it tastes like it came from a real chocolatier. Cutter thinks this might be his rebound. Now for Chef Ramsay. Gordon tells Cutter that he disagrees with Joe and Graham and the chocolates look like Cutter … clumsy. Then he says "Just kidding!" Gotcha! Gordon loves to kid. He also loves the chocolates. Cutter aced it. How did Ramsay know that was going to happen?
Christian, Ahran and Willie all do pretty good. Christian made eggnog & brandy, bacon and chocolate-covered pretzel truffles. Willie made togarashi, habanero and coconut truffles. Gordon didn't like the sprinkles Willie used on the habanero but liked the taste. Ahran made Hazelnut, peanut butter pretzel, and coffee truffles. Joe thinks they are a little dense but isn't too critical.
Leslie's truffles are a mess. He made dark chocolate, white chocolate and coconut truffles. Gordon says they look like Leslie molded the chocolates in his armpit. The truffles themselves taste decent but both Gordon and Graham are really unhappy with the presentation. Leslie is in bad shape.
Christine is next. She made sea salt dark chocolate, coffee & cinnamon, and almond crunch truffles. Joe notices that they aren't round but then tastes one and oh no … these chocolates are bitter. Gordon tries the coffee & cinnamon truffles which have cocoa nibs and almond dust on them. Bad move. Cocoa nibs are bitter. Gordon is disappointed.
The judges make their decision. Cutter won the competition with the best truffles. Christian, Ahran and Willie are all sent up to the balcony as well. They weren't perfect but Leslie and Christine were stand-out bad. Who's it going to be? Looks-bad-but-tastes-O.K. or Looks-O.K.-and-tastes-awful? And it's Christine. You didn't think they'd throw out a personality like Leslie for a dud like Christine did you? Now that Cutter is on the come up anything can happen next week.