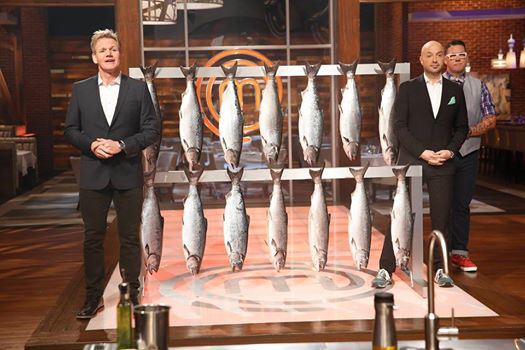 Only 13 home cooks left, so get ready for a lot of unlucky number references and a tough competition. The 13 enter the kitchen and the judges are standing in front of a huge metal case. We see a clip of Cutter's very clear explanation why he'll probably win this Mystery Box challenge: "We see a big huge box on stage. I'm from Texas. We like everything big. So I'm thinking right off the bat, boom, advantage Cutter." Who can argue with the reasoning? Texas big, box big, Cutter win? Not this freelance recapper. Guess Cutter will be back in the pantry after this Mystery Box, safe from Elimination Challenge. Besides the enormous box, there is a regular size box in front of each home cook. Gordon Ramsay instructs the home cooks to lift their boxes which reveal a single knife stuck into a cutting board. So the cooks will have to cut something with a knife. Very interesting.
Let's see what's under that box. The metal case is slowly lifted up as steam comes pouring out dramatically to reveal … salmon. Yes, that thing you order at a restaurant when you don't know what to order. These aren't just any salmon though. These are whole Alaskan wild king salmon. The home cooks will have to filet the fish themselves and cook their dishes in one hour. Christian is confident, saying into that camera, "Oh, hell yeah. It's time to show these clowns what I really, really got." Poor Christian. He doesn't understand that Cutter is going to win because he's from Texas.
After each of the contestants lugs away his fish, there is one salmon left. Gordon announces that the extra fish will be filleted by him, and cooked by MasterChef and everyone's favorite, Graham "The Man" Elliot. What about Joe? "I'm gonna eat it," Joe says. After the polite laughs subside Gordon tells everyone that each of those salmon cost $450. That's expensive but I still think I'm getting screwed on the extra $3 to add it to my salad.
Let's get to filleting. Gordon goes right at it while others run to grab things from the pantry. Ahran feels lost because she's never filleted a fish before. While many of the home cooks struggle to handle the large salmon and slowly try to filet it properly, Gordon is tossing and cutting like Neo in The Matrix. Graham and Joe lament that none of the home cooks are watching the master at work. First five minutes are done and so is Gordon. He's filleted the holy heck outta that salmon. Joe tells the contestants that they would have been better served to watch Gordon for the last five minutes as opposed to whatever else they did. That makes no sense really but Joe enjoys telling people they're wrong.
Graham steps up to cook the salmon while Gordon checks in with Christian. Gordon comments that Christian's fillet job looks great but sounds a little concerned with his plan to go creole. Courtney fights back the tears saying she doesn't want to go back to work at the gentleman's club. "Winning this can not only change my life but my family's life." Well, that's true for everyone except Leslie who's got a bunch of his wife's Sabrina The Teenage Witch money (she was the Exec Producer). Courtney's a favorite to win so she's probably not going to be stripping again this week. Joe can't believe how much Christine mangled her fish. "This is like a disaster." Elizabeth looks like she's on top of her salmon when Gordon talks to her. He comments that the "Filleting looks brilliant."
Done. Graham is anyway. With more than half the time still on the clock, team G&G are done. Graham's crispy skin wild king salmon with red beet threads, crispy golden beets, watercress, finished with lemon yogurt and a vanilla bean, pistachio vinaigrette. Graham is no joke and I'm not just saying that because he's tweeted back at me twice that he enjoys these recaps. Joe takes a bite and he's about to sing his praises when an emergency breaks out in the kitchen.
"Medic, medic please!" Oh no, did someone cut off a finger or burn their face? No, Elise is fainting from the pressure. Elise has been not that good of a cook the whole time so you think she'd be used to it by now. Medics swoop in with a chair. Elise sits down, hyperventilating and shaking. Medics take Elise out of the kitchen where she can lose in privacy.
Back to Joe eating Graham's dish. It's perfect of course. Look! Elise has come back. She's embarrassed but she wants to cook. The other home cooks support her return. Christian even says he takes his hat off to her and he never takes his hat off ever. He's bald right? Time's up. The judges have been tasting and watching through out the past hour. They take a final look before they select the top three. Could Elise make that big of a comeback after passing out? No, of course not. We all know Cutter is going to win so let's see who second and third are.
The judges first call Christian who made a blackened salmon. Everyone loves it. Joe even tells Christian that he might win his first Mystery Box. The next one called up is Courtney. She prepared a seared salmon with broccolini and couscous. Graham says it's cooked to perfection. Gordon goes further to say the dish, "made his night." The third and final home cook called up is Elizabeth. Cutter's big Texas hypothesis didn't work out. Oh that's right, I forgot, Cutter stinks. Elizabeth made an herb breadcrumb crusted baked salmon. Joe tells her that she might have a "real winner," but she doesn't because then Gordon announces after a commercial break the actual winner is Christian. He gets to go to the pantry and find out his advantage.
In the pantry Christian's told that he doesn't have to cook in the elimination challenge (duh) and that he also gets to select what everyone cooks (duh again). Each judge has put together a basket of items that they like to cook with and Christian will pick one for the elimination challenge. He goes with Joe's Italian basket. The basket contains wine, grana padano cheese, prosciutto san daniele, chanterelle mushrooms, fresh artichokes, aged balsamic vinegar and garlic. Everyone gets an hour make an Italian dish using Joe's basket. One last thing, Christian gets to give one home cook only 30 minutes to cook. Christian picks Courtney. She talks a big game but Christian wants to see more. Courtney isn't shocked by the decision. For the first half-hour Courtney has to stand and watch the others. The clock starts and everyone else gets to cooking.
Judges huddle up to talk about who's going to struggle with the challenge. Gordon thinks Elise might have trouble. Well, yeah she fainted over fish a few minutes ago. Graham thinks Courtney's time restriction is really going to hurt. Elise is making porcini and artichoke ravioli. It's only her second time making pasta dough so that's her main concern. Gordon checks out what Cutter's up to. He's making flat bread pizzas because he likes pizza. Gordon asks, "So it's all about what Cutter likes and not about what the judges want to see?" Cutter replies with a "Yep." Oh, Cutter, you know how to work the judges. Joe and Graham take a look at Ahran's dish. She's making a savory tiramisu. Joe thinks it'll either be a genius invention or a disaster. It couldn't taste worse than regular tiramisu, yuck.
Thirty minutes in and Courtney can finally get cooking. As she rushes to get started, Elise is losing it again. At least she's not calling for an ambulance. Her pasta dough is all crumbly and it's too late to do anything else. She's ready to give up completely when Gordon steps in and helps. There's another 20 minutes of show to fill so Elise needs to stay in the game. After Gordon gets her dough to hold together and gives her a little pep talk, Elise is back. Joe likes the look of Elizabeth's dish. She's preparing a breakfast lasagna. Willie describes his dish to Gordon as a tomato soup with a fried egg on top. I'm all #TeamWillie but that sounds like a depression era hobo stew. Hands in the air. Time is up.
Courtney is up first. She made spaghetti with a mushroom ragu and artichokes. Gordon says the dish looks like it took 60 minutes as opposed to 30. Graham and Joe also think it's a great dish considering the time she had. Christian calls from the balcony that she played it safe. He just makes himself look stupid to the judges. It's understandable that he's annoyed that Courtney chooses to talk to the judges in that baby whisper but she's also nailing almost every competition. Christian did not get rid of Courtney.
Cutter is next with what appears to be a single Bagel Bite on a plate. Gordon is already disgusted, sarcastically asking Christian if he only gave Cutter 10 minutes to cook. Cutter describes his dish as an "artisan pizza." Gordon winces at Cutter's use of the word "artisan." Cutter goes on to explain that is what is on the menu at the pizza restaurant that he likes so he just used that word. Fun fact: Cutter's favorite pizza restaurant is in the Dallas airport food court, Terminal C. Gordon tastes the pizza and says "It's just not good enough." Joe feels a little more strongly about it. He spits the pizza out and throws the dish in the trash. Cutter has never performed well. This might be it for him.
Willie has to present his tomato egg soup. Chef Ramsay asks Willie to rate the dish. Willie thinks it's about an 8. "That's literally seven points too high." Come on, Willie. You got to do better than that. Nobody spit the soup out so he might be O.K. Christine made a mushroom caramelle that Joe likes a lot. Ahran's savory tiramisu did not sound appealing to Gordon when he heard about it but it turns out she nailed it. Gordo loves it. Elizabeth's breakfast lasagna is also a big hit. Joe says it's like taking a trip to Italy. Elise brings up her ravioli, already crying. She says that she's lost her confidence in the kitchen. Gordon takes a bite and makes Elise taste how bland it is. Gordon leans in and quietly asks Elise if she's given up. Elise tries to compose herself and says "No, I don't think I've given up." Ramsay replies, "It just tastes like it." Ouch, burn of the night.
Who's going to go home? The top two go to Ahran and Elizabeth. Elizabeth got top dish but they will both be team captains next week. There isn't even a bottom three this week because there were two so much worse than the others. Gordon lets Willie know his tomato soup was awful but Cutter and Elise were so much worse. Who's it going to be? The loud mouth who can't take direction or the fainter who's becoming an insurance risk? Wipe your tears on that apron one last time Elise because you'll be passing out in your own kitchen from now on. The judges have kind, encouraging words for Elise and wish her well. Cutter gets to stink at cooking another week.