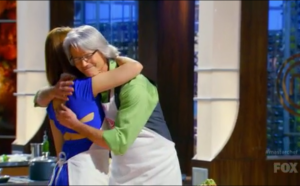 This is a heartwarming MasterChef. If you didn't get a little misty at one point there's a reason dogs bark at you; you're a Terminator. There is one thing I need to address before I get into the recap. I had a Twitter convo with Graham Elliot and turns out he's read my recaps (Hi, Graham). Just wanted to say that Graham's readership and probable future friendship will not affect my writing here. Let's get into what was probably the best episode so far this season.
Hit the music. The final 15 home cooks and the judges file into the kitchen with gravitas. As they enter we see two videos: one of Courtney and the other of Francis B talking to the camera. Courtney declares that she has her mojo back and makes a joke about her high heels that at least makes her laugh. Franny B says her palette is "ridiculous" and "there's no competition, I got this." Oh do you? The opening video is usually the kiss of death but both have been strong competitors so far. Does MasterChef know we're hip to the "opening vid, see ya later" gimmick and trying to throw us off the ending? There's still a lot of dead weight on this 15.
The Michelin rated chef, Graham, and the other two judges explain that tonight is going to be a different kind of team challenge because the home cooks will be working in pairs. Oh, nobody likes the sound of that. Gordon immediately goes to the most disliked, Leslie, and asks whom he would not want to work with. Leslie does not want to work with Ahran because they don't get along. He can't pronounce Ahran's name. It must be his Boston-Malibu accent. Leslie keeps saying "eye-ran"; he sounds like a Kennedy. The hilarious MasterChef Graham Elliot asked Ahran if he even has to ask her who she doesn't want to work with. Ahran coldly replies, "I don't think so." Willie cracks up at that one. Graham asks Christian who he wouldn't want to work with. Out of the remaining 15 people there, Christian wouldn't want to work with Courtney. Hold on now. Courtney has been killing it almost every week but Christian won't work with her? Nope. "She's just not real. She doesn't have passion." It's your lucky day Christian because you don't have to cook with Courtney because she's picking the teams. Since she won the last challenge Courtney gets to say who's going to cook with whom. Gordon Ramsey tells Courtney to get up to the balcony and be careful not to catch one of your high heels in the staircase. "I won't. Got lots of practice." Courtney loves to be cocky. The first person Courtney calls is Christian and she pairs him up with Francis B because she thinks their personalities will clash. Courtney then put together the teams of Jaimee and Elizabeth, Victoria and Christine, Cutter and Dan, and Willie and Daniel. Ahran is called up next. Does Courtney have the nerve to put her with Leslie for what will be probable disaster? Yup. They are a team. God help us all. That leaves Francis L (Scottish Francis) and Elise.
So what do they have to cook? Two huge metal cases are rolled out and all is revealed. The challenge is surf and turf. The turf includes: pork belly, short ribs, lamb rack, venison loin, chicken, steak and veal chop and from the sea we have: ahi tuna, monkfish, oysters, red snapper, octopus, king crab and clams. The teams get one hour to plate a surf and turf dish but only five minutes in the pantry to decide what they're cooking and get all the ingredients. The people in the bottom two teams will have to compete in an pressure test to see who is going home.
The clock starts ticking. Everybody is working out their dishes in a hurry. Leslie is being very agreeable with Ahran. It's Cutter and Dan Wu that aren't getting along. They cannot agree on what to make and end up leaving the pantry with some venison, tuna and a few veggies. Not looking good for Cutter and Dan Wu. Cutter is piiiissed. Victoria and Christine are preparing a pork belly wrapped monkfish and green apple risotto. Christian and Francis B are making a rib eye with a king crab cream sauce. Christian loves working with Francis B so much he thanks Courtney for teaming them up. What the heck are Scottish Francis and Elise doing? Graham and Joe check in with them and they are working with xanthan gum for a blood orange foam and a mint and lemon caviar. They are also making a crab risotto with rack of lamb. Scott Fran loves to get complicated and Elise likes to cry. Joe asks who's the leader of the Team. Elise proudly says that the dish is her idea. That smile gets knocked right off her face when Joe asks, "It was your idea to cut the onions 10 times as big as they should be?" Dramatic orchestra strings play as Elise's face drops. What's up with Cutter and Dan Wu? Gordon Ramsay is going to find out. No, they have not pulled it together. Cutter is stumbling over the explanation of the dish to Gordon. As Cutter explains that the tuna is going to be raw, sashimi style, Dan Wu is taking a blowtorch to the tuna. It's perfect comedic timing. Not funny to Cutter. He tells Gordon, "He's not okay." Cutter then goes on to explain how Dan screwed up everything and wouldn't listen to him. Gordon tells them to pull it together. Both Cutter and Dan Wu have sort of stunk most of the competition so it looks bad for them. If those two can't get along then Ahran and Leslie must be about to throw down. Gordon stops by their cooking station to find out. "First of all the energy looks great." Those are words that Gordon Ramsay said about Ahran and Leslie. They're making spicy pork belly and sweet crab stack with pico de gallo, guacamole and kimchi fried rice. When Gordon asks who's the head chef, Leslie replies, "Eye-ran". Gordon makes Leslie say "AH-ran" a few times so maybe he'll learn how to pronounce the letter a. Ahran is laughing and laughs even harder when Gordon tells her that Leslie is her "bitch." Gordo line of the night, "Leslie is your bitch." It gives me hope in humanity to see those two get along. Just a few weeks ago Leslie made Ahran cry when he yelled at her to get some balls. Times up, hands in the air. Leslie and Ahran hug. I think I'm feeling little emotional.
Tasting time. First up is Ahran and Leslie. The MasterChef #1 Graham Elliot says Courtney put them together because she wanted Leslie out of there. Courtney admits they worked well together and it looks like a nice dish. Graham tastes their pork belly tostada with crab guacamole and kimchi fried rice and it's great. Graham asks Ahran if she has a new respect for Leslie. Ahran says that she does respect Leslie as a cook and a person. Ok, I'm feeling tears coming a little but nothing I can't pull back. Joe calls the dish harmonious. Gordon says it's delicious and seasoned perfectly. He then asks that the two hug one more time. They do to everyone's applause. You will not make me cry, MasterChef but you got to me a little. Next up Dan Wu and Cutter present their dish to Gordon who asks, "What in the f*ck is that?" Good question, G-Ram. The plate is pretty bare. All you see is a strip of tuna cut into pieces on one side and a strip of venison on the other. Cutter goes right into blaming Dan. Dan says he'll take responsibility for the dish. Then Cutter says he thinks it tastes good. The dish is seared venison loin on a bed of cauliflower and parsnips with seared ahi tuna on a three radish salad. Gordon takes a bite and calls it one of the worst dishes in the competition so far. Thought that was bad? Well, here comes Joe. Joe just looks at the plate in disgust. Cutter tells Joe that he doesn't have to eat it. "I'm a judge here so why don't you let me figure out what I have to do and I what I don't have to do." Joe figured out that he didn't need to taste it but he did need to walk away, grab a trash can and make Cutter throw the dish in it. Yikes. Joe has stepped up as the mean guy. That only leave the always well-dressed Graham as the nice judge. Elise and Francis L are next with a rack of lamb with crab risotto, yogurt, blood orange foam and caviar. Somebody left the fat on the lamb and Gordon says he's unimpressed with the both of them. Jaimee and Elizabeth are next. They cooked a lamb and red snapper with carrots and kale. Joe says it's perfectly seasoned and that they captured the spirit of the what the judges were looking for. Jaimee and Elizabeth are safe. Willie and Daniel impress Gordon with their seared ahi tuna with buttermilk miso fried chicken. Graham calls up Victoria and Christine and immediately comments that the dish looks beautiful and when he tastes it he says it's a really good dish. Christian and Francis B are up next with a Moroccan rubbed rib eye with king crab. Gordon thinks it's a big plate of so-what. The two consider themselves front-runners but Gordon points out that individually they both could have made a better dish in less time. Courtney smiles in the balcony as Gordon says that the dish looks like "school dinner." That must be an insult in England. They eat dinner at school there? No wonder they sound so smart. Gordon says they both have one foot out the door. The judges select the bottom two teams. It's going to be Francis B, Christian, Dan Wu and Cutter competing in the pressure test. At least one of them is going home.
The pressure test is spring rolls. It's pointed out by Joe that Dan Wu was born in China. Dan admits he's made spring rolls before. He's the only out of the four who has. They all have to make a plate of six spring rolls and a dipping sauce. The judges huddle up and Gordon reveals that the secret is to get that dough wafer thin. Gordon talks to Cutter who's still complaining about Dan Wu. Get over it dude. Dan Wu is confident when Joe checks on him. Dan is using the pasta maker to help get his dough thinner. Graham is concerned about Francis B, telling him he better bounce back. Cutter has a spring roll (which he calls an egg roll) that is coming apart. When things get tough Cutter loves to panic. Gordon notices that Francis B wasn't cooking in hot oil so they won't be crispy. Francis then throws the rolls into a pan with oil to try to brown them. The judges know this will make for greasy spring rolls. Bad move. Three, 2, 1, hands in the air. Christian's spring rolls are tasted by Graham. He does a decent job but not perfect. Joe pulls apart Francis B's spring rolls to show there's not enough filling and they are greasy. "If you go home tonight you can order in some spring rolls." Another Joe burn. Gordon is unimpressed with Dan Wu. It's ok but he expected much better. Cutter is last. Joe is already unhappy by the tiny amount of sauce but then picks up the egg rolls to find out they are not at all crispy. Not looking good for Cutter. When Joe asks about his partnership with Dan Wu, Cutter replied, "Sometime people don't work that well together." Then Joe throws down with, "Sometimes you don't work that well on your own." Damn, Joe won't stop taking suckers down. Cutter must be done. I don't even know how he got in. Sorry, Cutter. The judges have made their decision and Francis B is going home. What? This decision is crazy. Francis B went from top dog to gimme that apron so fast. The prophecy of the opening video has been fulfilled. Cutter lives another day.
Let's not forget the lessons taught by Ahran and Leslie. We can all get along if one person will shut up and do exactly what the other person says.
Chris Laker is a writer and stand-up comedian in New York City. His debut album, Moments of Greatness was released today. It is available on iTunes.