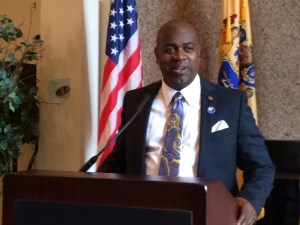 NEWARK – On an inauguration day in Newark whose soundtrack was a mix of Irish bagpipes, Puerto Rican salsa and African drums, as well as a fired-up speech by Ras Baraka, the new mayor's first remarks to the press were those of quiet reflection.
PolitickerNJ.com asked Baraka a two-part question moments after he finished his inaugural address on a steamy Tuesday in front of the New Jersey Performing Arts Center (NJPAC). Newark's 40th mayor was asked what was going through his heart and mind on the day he was sworn in, and how Baraka's thoughts and emotions would affect his policies during the first 100 days of his administration.
"I didn't really feel this whole mayor thing until I left my home this morning and saw all the police outside of my house. My neighbors on the porch, taking pictures and waving. I realized that they were doing that for me," Baraka said. "When I got into the car, put on my headphones, and listened to Nina Simone, that was probably the first time that I felt overwhelmed.
"Thinking about my dad, and him not being here this day, was a lot for me," said Baraka, 44, remembering his father, the famed poet and activist Amiri Baraka, who died in January.
"The first 100 days are completely dedicated to the people of this city – to make sure that all of the things that Newark has wanted, prayed for and fought for, that God gave me the ability to do today, happens," added Baraka, pausing when his voice choked with emotion. "Whether it be safe streets, jobs, families that are struggling, and a city that everybody can be proud of again."