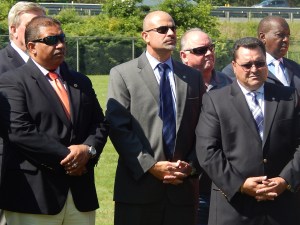 PARSIPPANY – Newly a resident of Bergen County, U.S. Sen. Bob Menendez (D-NJ) test drove his sun-dappled side here in equally leafy Morris County next to his fellow upper house federal lawmaker, U.S. Sen. Cory Booker (D-NJ) and a brace of labor brass, including VP of the NJ Laborers Union Ray Pocino.
The Jersey guys welcomed U.S. Transportation Secretary Anthony Foxx in a call to extend funding for the Highway Trust Fund, which is set to expire next week.
"We are long overdue for a substantial multi-year transportation bill that will provide reliable funding, create thousands of jobs, and allow businesses to thrive," said Booker, posing in front of a section of I-80 slated for $84 million in rehabilitation, money in the federal trust fund. "While I plan to support this critical funding patch, it is a temporary fix. We must take long-term action and stop kicking the can down the road."
Foxx said the U.S. Dept. of Transportation will cut highway reimbursements as early as August, if Congress does not pass an extension. The absence of funding would slow or halt over 100,000 projects that employ approximately 700,000 workers nationwide, he said.
"Congress must do more than simply hit the snooze button again and again on passing a long-term funding solution for our nation's highways and bridges," said Foxx. "Our states deserve the reliability of a true federal partner to repair our nation's transportation network and our drivers who use bridges and roads like I-80 each day to get to work and deliver freight to customers deserve a safe and reliable way to get there."
The sneator said 23,663 New Jersey jobs would be at risk and 1,311 active highway and transit projects would be slowed or stopped if Congress fails to pass an extension.
"Neglecting our transportation needs doesn't save us money—it comes with a cost in lost jobs, in time wasted in traffic, in lives lost on outdated and obsolete roads and transit systems," Menendez said. "It's time for the naysayers to stop pretending that by ignoring the problem, it will go away. It's time to act and govern and plan for the long-term. It's time to invest in our future."
According to Booker's office, Work on I-80 began in 2012 and included a major rehabilitation of approximately four miles of travel lanes. The project, which will completely rehabilitate the busy stretch between the Route 202/Littleton Road interchange and the Beverwyck Road interchange – an average of 159,000 vehicles traveling it daily – is expected to be completed in early 2015.