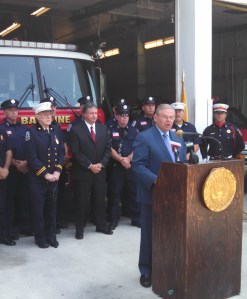 BAYONNE – At a press conference in front of the Bayonne Fire Headquarters here today, U.S. Senator and chair for the Senate Foreign Relations Committee Robert Menendez (D-NJ) strongly underscored his conviction that the U.S. must be doing more to punish Russia and its President Vladimir Putin in the wake last week's Malaysian Airlines Flight 17 crash.
"I have been calling for sanctions — as you know I have been sanctioned by President Putin, which as far as I'm concerned I wear as a badge of honor," Menendez said, inciting a wave of applause from the group of roughly 30 Bayonne residents gathered outside the station. "I believe that we should have been more strongly sanctioning Russia before the shoot-down of this plan."
Menendez's comments, which come four days after Russian separatists shot down the commercial airliner over Eastern Ukraine, would seem to stand at odds with the Obama Administration's own handling of the crisis. The U.S. has already ramped up sanctions in response to the crash.
But yesterday, Menendez told Fox News that the U.S. and the West must "have a far more significant response than we've seen to date." He elaborated on that position this afternoon.
"You have an aggressive Russia that has changed the international borders," Menendez said. "You have an aggressive Russia that has invaded a sovereign country by invading the region of Crimea. You have Russia that continues to destabilize Eastern Ukraine. You did not have these problems until a Russian provocation. And now you have a set of circumstances where Russia has provided the type of sophisticated surface-to-air missiles that from every intelligence aspect we have gained at this time indicates that Russian separatists are using Russian equipment and have openly struck down innocent civilians and 300 lives were lost."
Menendez called the event "an outrage," adding he would like to see Europe increase its involvement in the ongoing Russia-Ukraine conflict as well.
"I hope that Europe finally wakes up and understands that if it wants to send a message that this type of aggression cannot continue it will need to be more vigorous in its response to President Putin and Russia," he said.
"So I call for more significant sanctions that are sectoral, that can deeply hurt the Russian economy and send a very clear message to the Russian that unless you deter these actions, that unless you immediately give the international community access to the [Malaysian Airlines] crash site — Russian separatists are not only disparaging the bodies of those who died but also trying to alter the crime site," he went on. "What do you have to fear if you didn't do anything wrong? You should let the world come to the crash site, give dignity to those who died, and determine what is the set of circumstances as to how this plane was ultimately destroyed."
Menendez appeared here in Bayonne today alongside newly-elected Mayor Jimmy Davis to announce the city's acquisition of a $295,000 federal grant that will be used to fund critical safety gear for city firefighters. It's the second time the senator has made a stop in the peninsula city in as many months.
Before leaving to for Jersey City, where he said he would pay his respects to the 23-year-old police officer slain last week outside a Walgreens, Menendez also paused to reiterate his support for Israel — currently in the midst of a ground invasion of Gaza — in the region's own ongoing conflict.
"What would we expect our government to do if we had 1,500 rockets fired into the U.S.?," he asked. "We would expect them to stop the rockets. We would expect them to defend us. Now I abhor the loss of life, Palestinian or Israeli. But at the end of the day you have a terrorist organization in Hamas acting as a coward, hiding behind women and children and mosques and civilian entities where they fire their rockets from. And that is unsustainable. It is unsustainable for the state of Israel, it is unsustainable when you have terrorist tunnels networked all the way inside of Israel, ultimately to have hamas popping up and shooting Israeli soldiers."