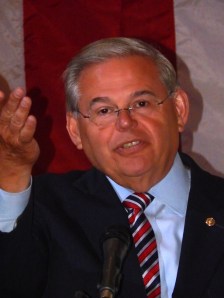 It was a small event, just 40 to 50 people in a room honoring Bergen County Democratic Chairman Lou Stellato, but U.S. Sen. Bob Menendez (D-NJ) showed up in Edgewater and declared his formal support for Bergen County executive candidate James Tedesco.
He did more than that, in fact.
"I'll be voting for him," said Menendez, the Hudson County bareknuckle political brawler now formally a resident of Bergen County.
Menendez's admission of Bergen residency intent on voting for Tesdesco – who's in a November general election against incumbent Republican County Executive Kathe Donovan – shocked some people in the room, according to a source.
The senator wasn't the only Hudson County brand name present, as Jersey City Mayor Steve Fulop also put in an appearance.