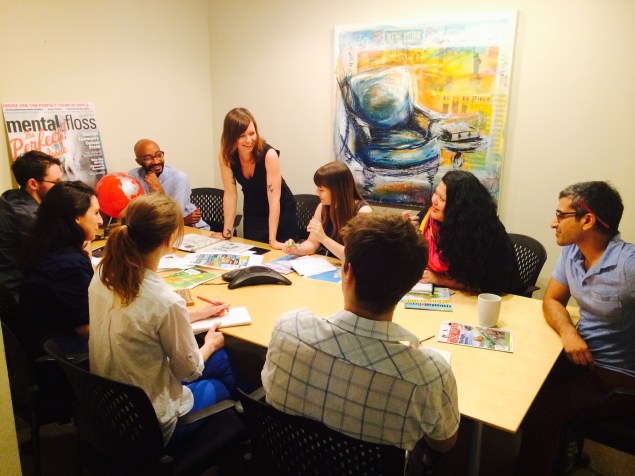 Mental Floss, which launched out of a Duke dorm room back in 2000, in many ways anticipated the type of evergreen, list-driven content that would eventually become popular on an Internet that was not yet ubiquitous.
"One day in the cafeteria, Will [Pearson] and I were sitting there and we said, 'What if there was a magazine that came to your doorstep every month and it was filled with all of these great fascinating topics and you could learn just by skimming it, and it never talked down to you, it wasn't pedantic, it was just really approachable and smart,' " co-founder Mangesh Hattikudur told the Observer on a recent Friday afternoon.
Mssrs. Hattikudur and Pearson couldn't find the magazine they wanted to read at the Durham Barnes & Noble, so "being sort of naive and cocky and 19 or 20," they decided to start it themselves.
Fifteen years on, the founders are all grown up and the magazine is going strong, expanding and increasing print frequency at a time when even successful media companies have cut back on print. Mental Floss has carved a niche in a crowded market by being off-beat rather than insidery.
After the cafeteria conversation, the college students, unaware of a media climate that had recently killed splashy, expensive publications like George and Talk, decided to start a magazine. By the end of their senior year, the magazine had a small run on newsstands and a webby sensibility despite not having a website. Early stories with headlines like "25 Album Covers that Changed Everything," "Gone with the Schwinn: How the Bicycle Emancipated Women" and "4 Terrifying Theories in Astronomy" seem, in retrospect, to have anticipated current Internet trends.
"This is going to sound kind of like Al Gore saying he invented the Internet, but I really think in some ways Mental Floss invented the culture of lists," editor in chief Jessanne Collins crowed.
The magazine, which tells stories that are easily converted to dinner party anecdotes, slowly developed a cult following, helped along by book deals with HarperCollins, board games and t-shirts.
By 2011, the magazine, then based in Mr. Pearson's home town of Birmingham, Ala, had weathered a decade that took out a slew of bigger and more established publications.
The colorful British magazine publisher and Maxim founder Felix Dennis, who passed away last month, was flipping through his flagship title The Week when he came across an ad for Mental Floss. (The magazines had, unbeknownst to Dennis, done an ad trade). An angry Dennis—he opposed ad trades—phoned Steven Kotok, the president of The Week. Mr. Kotok sent his publisher some copies of Mental Floss. Dennis liked what he saw and summoned the magazine's founders for a meeting.
"The first thing he said was: 'I've got to say, Mental Floss is the worst effing name in the history of publishing,'" Mr. Hattikudur recalled. But Dennis bought the magazine anyway.
A couple issues into the partnership, Ms. Hattikudur remembered, the magazine put out what they thought was a more polished product.  "We didn't really feel comfortable with it, but we thought this is what we're supposed to do," he said. Apparently, Dennis did not feel that way.
"It looks like the effing suits have taken over your publication," the new owner said in a phone call, according to Ms. Hattikudur. "I didn't buy this because it was professional, I bought it because it was amateur."
"One of the ways we fit in with The Week as a sister publication is that its shtick is everything you need to know right now," Ms. Collins said. "And I think of Mental Floss as everything you didn't know you want to know."
That phone call helped the magazine stay true to original concept and execution that they had dreamt up as college kids. Meanwhile, the deal boosted the title's visibility and brought in ad dollars from luxury brands. Circulation at the time of the deal was 100,000 and has since increased to 160,000. Relocating to New York gave the magazine access to a stable of writers in the New York media scene.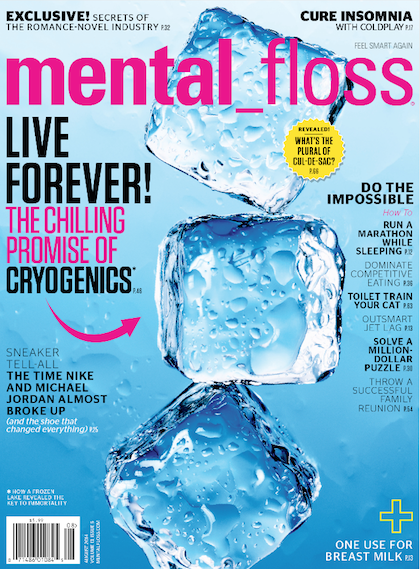 This month, author Jen Doll was named contributing editor and the August issue lists contributors including Gawker writer Caity Weaver, former Observer senior editor Foster Kamer, The Li.st co-founder Glynnis MacNicol and Esquire editor at large A.J. Jacobs. Ms. Collins herself recently wrote a well-received e-book about her time as an editor at Playgirl and is married to Capital New York media reporter Joe Pompeo.
Mental Floss, which was bi-monthly when it was bought by The Week, will publish 10 issues in the coming year. It has expanded on the digital front, as well, including a Youtube channel that recently hit a million subscribers (partnering with John Green, the bestselling YA author of The Fault in Our Stars no doubt helped) and a popular Twitter feed. According to Mr. Pearson, the website now gets a respectable 11 to 12 million unique visitors per month.
Recent stories include lists such as "31 Adorable Slang Terms For Sexual Intercourse from the Last 600 Years," "10 Historical Titans With Surprising Tattoos," and "12 Predictions for the Year 2000 from a 19th-Century German Chocolate Company."
In Australia last year, Ms. Collins found herself describing it to the uninitiated as a "magazine of amazing stories about interesting things."
As Mr. Hattikudur explained: "Everything is still about trying to make you feel smarter, without feeling like it's a chore."