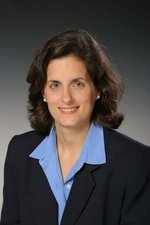 LAKE COMO – Mercer County Executive Brian Hughes has declared his support for Mercer County Democratic Chair Liz Muoio to step into the state Assembly seat soon to be vacated by Assemblywoman Bonnie Watson Coleman (D-15).
"We've got a lot of qualified people to run for that position. But I could tell you I spent two terms on the [Mercer County] Freeholder Board with Liz. She's a very good person, and if the race were today, I would be supporting her," said Hughes at a summer barbecue held at Bar Anticipation in Lake Como by the Monmouth County Democrats, which drew a plethora of statewide Democratic players.
Muoio has served as Chair of the Mercer County Democratic Committee since being elected to the position in June 2010. She was unanimously reelected Chair in June 2012 and June 2014.
Muoio, of Pennington, has served as director of the Mercer County Office of Economic Development and Sustainability since 2008. At the time of her appointment to that position, she was serving as a member of the Mercer County Board of Chosen Freeholders, a position to which she was elected in 2000, and reelected in 2003 and 2006. Muoio served as Chair of the Freeholder Board in 2004, and Vice Chair in 2003 and 2008.
Watson Coleman's 15th Legislative District Assembly seat, which includes municipalities in Mercer and Hunterdon counties, will open up as Watson Coleman seeks New Jersey's 12th Congressional District seat in November against Somerset doctor Aelita Eck. Watson Coleman decisively defeated state Senator Linda Greenstein (D-14) and state Assemblyman Upendra Chivukula (D-17) in the Democratic primary last month.
Muoio is also on a short list of women being advanced by the Women's Political Caucus Of New Jersey's Democratic task force to replace Watson Coleman in the Assembly.
"I'm not going to get into a formal endorsement process until we get Bonnie elected," Hughes added. "But clearly right now, if [the Assembly election] were today, it would be Liz Muoio. She's articulate and she's on top of the issues. She's been very, very loyal to me, and I'd be very loyal to her if she wanted the seat. Liz would be a fantastic candidate and a fantastic legislator."