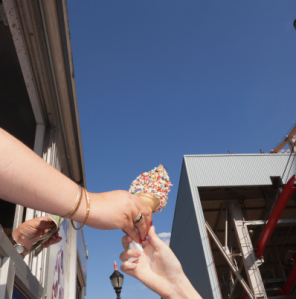 Turns out the charming jingle of the Mister Softee trucks, an icon of summer since 1956, is hated by a slew of NYC residents.
In the past four years, 7,031 noise complaints have been filed by New Yorkers, irritated by the high-pitched song played on loop by the omnipresent Mister Softee truck, the Post reported.
The sheer number of complaints is even more impressive when you consider that ice cream trucks cannot go out in bad weather and do not run in the winter due to lack of demand. These complaints continued to flood in even after the Bloomberg administration decided in 2005 that ice cream trucks could only play the catchy tune while en route (and not while stopped), the New York Times reported.
However, it seems many renegade drivers are not abiding by this rule. According to Department of Environmental Protection data, residents at one apartment complex in the Bronx have filed 132 complaints alone.
Liza Bello, who lives at 3230 Perry Ave. in Norwood, told the Post, "The only time [drivers] turn the music down is if church is going on. It's so loud, you can hardly hear your own TV!"
You have grounds for filing a complaint at 311 if an ice cream truck is parked near you and continuing to play the notorious jingle. Noise violation fines run anywhere from $50 to $7000, but will probably fall around $350 in these cases, according to Gothamist.
Mister Softee however remains proud of its recognizable tune and, for those who have yet to grow sick of the tinkly jingle, you can even visit their website to find lyrics to sing along.