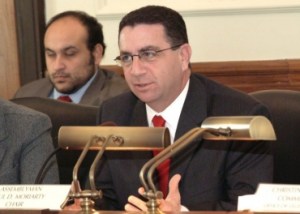 TRENTON – To Authorities Unit Director Regina Egea's claim of belief in a traffic study causing those infamous lane closures last year at the George Washington Bridge, Assemblyman Paul Moriarty (D-4) expressed incredulity.
Pointing Egea to the discredited "traffic study" argument advanced by former Port Authority Deputy Director Bill Baroni and volunteering to bring her up to date, Moriarty said people also "believe in the tooth fairy."
"They did produce data," Egea said, repreatedly trying to turn back lawmakers who drubbed her on what they deemed was her over-reliance on Baroni as a source of information at the Port Authority.
When Moriarty invoked the tooth fairy, both Egea and her attorney objected, but Moriarty stood by his characterization.
On Aug. 13th of last year, prior to the ensnarlment of the GW Bridge, Bridget Kelly, then-Christie's deputy chief of staff, emailed David Wildstein, director of interstate projects at the Port Authority.
The email read: "Time for some traffic problems in Fort Lee," to which Wildstein replied: "Got it."