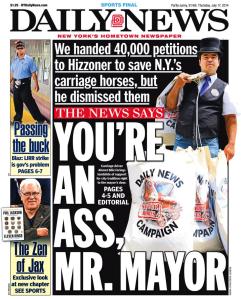 The Daily News splashily delivered 40,000 petitions from their save the horse carriage campaign to city hall, but the mayor didn't really care and sent an aide to pick up the sacks emblazoned with what the News describes as the "colorful 'Save Our Horses' logo." Too bad Mayor de Blasio is too busy packing for Italy and talking to Stephen Colbert to pay attention to the tabloid. Getting ignored is not going over so well with the News, but at least they have a front page to use. (The Daily News)
The rest of today's media news is mostly devoted to Rupert Murdoch's burning desire to buy Time Warner.
Rupert Murdoch still wants it all, according to Michael Wolff. Can anyone really have it all? Well, if  anyone can, it's probably Rupert.  (USA Today)
What if the 83-year-old mogul is not just unstoppable, but also immortal, wonders Simon Dumenco. Dun dun dun! (AdAge)
David Carr's column on the proposed merger gets illustrated with a Game of Thrones illusion. (The New York Times)
And if Murdoch is successful and gets what he wants (and everyone seems to agree that he generally does), then CNN will probably get sold because what regulator in his or her right mind would let Fox News and CNN be controlled by the same guy? CNN could fetch  $8 billion, some people say. And some people (no word on whether they are the same people) apparently joked about CNN founder and steakhouse restaurant chain owner Ted Turner be a potential buyer. These are a lot of hypotheticals to keep in mind, but Mr. Turner did not return the Post's request for comment on the highly speculative and only slightly funny joke. (New York Post)
Oh, hey, you know who kind of saw this coming? Novelist Gary Shteyngart's, whose 2010 book Super Sad True Love Story was set in the near future and was eerily apt. In the book, the only television channels are Fox Liberty-Prime and Fox Liberty-Ultra. "The merger of Time Warner Inc. and Twenty-First Century Fox Inc., apparently suggested by Rupert Murdoch last month, shows Shteyngart was only barely ahead of his time," writes Susan Crawford. (Bloomberg)
Although this is not nearly all the articles about the proposed merger, but it's enough for now.