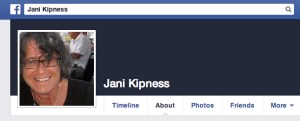 The Observer has cracked the case of the Palestinian woman who wasn't Palestinian.
Remember that story in which a Jewish doctor named Lisa Rosenberg was kicked off of Jet Blue Flight 454 for allegedly speaking offensively toward Palestinians on her cellphone before takeoff? The flight was headed from West Palm Beach, Florida, to JFK on July 7 and Ms. Rosenberg, a gynecologist, was accused by a female Palestinian passenger of saying derogatory things and implying the Palestinian woman might be carrying a bomb.
Ms. Rosenberg was escorted off the plane and ticketed for a later JetBlue flight. Blogs went crazy with the story with some protesting that Ms. Rosenberg was kicked off the plane for being Jewish and others answering that she was deplaned "for being racist."
According to the Palm Beach Post, Ms. Rosenberg said, "a woman approached her, identified herself as Palestinian and said she was offended by [Ms. Rosenberg's mobile phone] conversation. Words were exchanged and Rosenberg was asked to leave the plane."
According to the airline blog Flying With Fish, which reviewed JetBlue's internal reports of the event, Ms. Rosenberg was "spewing hateful comments towards the Palestinian passenger in seat 9C" and the flight attendant was urged "to calm the situation between Dr. Rosenberg in seat 7E and the Palestinian woman in 9C."
That's where the matter stood until this weekend, when the offended victim called both Ms. Rosenberg's office and the New York Post to reveal not only that she's not Palestinian but that in fact she's Jewish.
According to the Post article, Ms. Rosenberg taped the call and recorded the mystery woman telling her, "I told you at the time I was Palestinian because I wanted you to stop your rant. If I said I was Jewish, you wouldn't have stopped … I shouldn't have said it, but I did."
The Observer has learned that the non-Palestinian victim of Ms. Rosenberg's overheard cellphone call is a 59-year-old special-education teacher from Brooklyn named Jani Kipness. She has been calling PR firms around the city looking for representation as she prepares to "tell her story," according to one PR firm the Observer contacted.
The Observer spoke to Ms. Kipness this morning, reaching her at home. At first she vociferously denied that she was the woman on JetBlue.
"Was that you on the plane?"
"No."
"Do you deny that it was you?"
"Yes. I am not the person on that plane."
"Are you 59 and a public school teacher?"
"I am not. I'm younger."
"58? 57?"
"I'm younger. It wasn't me."
But confronted with evidence that she was indeed the woman who claimed to be Palestinian, Ms. Kipness, her cat meowing in the background, came clean.
"Yes. It was me on the plane. I admit that I told her that I was Palestinian. I wanted her to stop [her abusive language]. Like most decent, courteous people would. I didn't tell her I was Jewish because I didn't think she would stop."
Ms. Kipness insists that she was merely a good Samaritan and only said one sentence to Ms. Rosenberg, never calling her a "Zionist pig" or the other things Ms. Rosenberg later claimed Ms. Kipness said.
Ms. Kipness told the Observer, "If I knew that this was going to be all over the media, I would never have said a word to her. I'm proud of myself that I stood up. I'm just not proud that I lied."
Why was Ms. Kipness moved to action in this case?
"She literally said, 'I can't believe they threw me, a Jew, off the plane!' That's a sense of entitlement. 'How dare they throw a Jew off the plane?' Don't you think that's a bit of a sense of entitlement? She revealed herself."
This is not the first time that Ms. Kipness, who lives in South Slope, has waded into the minefield of racial stereotypes.
A 2012 story in the New York Times regarding the controversial "stop-and-frisk" technique quotes Ms. Kipness as saying "If that's what it takes, I find it acceptable … If you look at the crime in New York, it's less white people; that's just the way it is."
It was an opinion that proved unpopular in some neighborhoods on the internet; one blogger called "The Bitchy Pundit" pithily responded to the article by saying, "I want Jani Kipness to GET THE FUCK OUT OF MY CITY."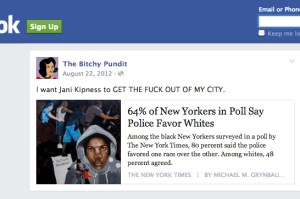 The Observer cracked the case by first getting a tip that Ms. Kipness was calling around looking for public relations help.
After the ejection of Ms. Rosenberg, Gothamist ran several stories about the incident. A commenter called "Wildk9z" wrote "I'm the woman who told the doctor I was offended by her remarks." Elsewhere, WIldk9z wrote that she said, "I'm a Palestinian and offended by your racist comments." The board quickly filled with commenters praising WIldk9z: "you sound restrained, rational and reasonable," wrote a commenter called avinoel.
Wildk9z goes on to state, repeatedly, that she was not driven by a desire for attention:
"Unlike Dr Rosenberg, i don't seek out media attention. And why should I? I'm not suing anyone or filing false claims." And …
"I'm way too shy for media attention, but I do wish more people knew the truth." And …
"However, as much as I want to set the story straight, I don't want any media attention."
It's difficult to know the true identity of a commenter on Gothamist, but if one types "jani kipness twitter" into Google the first hit is "Jani Kipness (wildk9) on Twitter" – that would be a pretty startling coincidence were the Gothamist commenter and the woman on the plane not one and the same.

And then on Gothamist, Wildk9z also writes about herself, to a fellow passenger from 454: "Perhaps you remember me- 59 yrs old , dark hair – getting grey 🙂 and about 5'2." All of these descriptions are true of Ms. Kipness, which would be difficult for an imposter to guess.
Ms. Kipness ended the Observer's call with an intriguing theory. "I can prove to you that she [Ms. Rosenberg] blatantly lied. First she said she was on the phone. Then she said she was not on the phone. That's because the man she was on the phone with [Myles Kobren, an obstetrician] could confirm that I said I was Palestinian but knows I never said 'Zionist pig.'"
Ms. Kipness also said that she no longer supports stop-and-frisk. "It can be very racist. I've evolved in my thoughts about that. I went through some serious self-inquiry and became more sensitive."