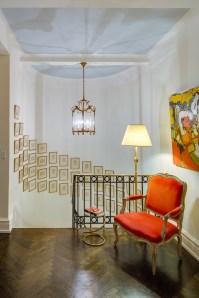 Frequently, when home owners are ready to put their places on the market, real estate brokers advise them to efface their properties' most exuberant expressions of personal style: the shorebird-themed back splash in watercolor tile, the deep purple dining room walls, etc. But we cannot help but think Lynn Jacobson's taste so unassailably lovely—at least as it was expressed in the three-bedroom duplex she until recently owned at 941 Park Avenue—that we would be quite surprised if its new owners, who've just acquired it for $7.45 million, according to city records, were not at least a bit disappointed to find Ms. Jacobson's own flourishes gone upon move-in. Cathy Franklin and Alexis Bodenheimer, who likely did not request major changes of the owner, had the listing at Brown Harris Stevens.
An interior designer of some repute, Ms. Jacobson has displayed her work over the years in Vogue, Architectural Digest and, shockingly, Interior Design. But let us be the first to tell you that it does wonders for a "sun-drenched" prewar co-op—then again, she had an awful lot to work with.
The place has 10-foot ceiling and hardwood floors wide-planked and herringbone both. Ascending from the foyer is a charming circular staircase, over which hangs a lantern chandelier, and along which Ms. Jacobson arranged a few dozen framed prints in a most attractive wave that the buyers would do well to replicate. Formal dining and entertaining spaces are gracious without being overwhelming, and the apartment is possessed of a wood-burning fireplace, a not-insignificant supply of marble and ample staff facilities.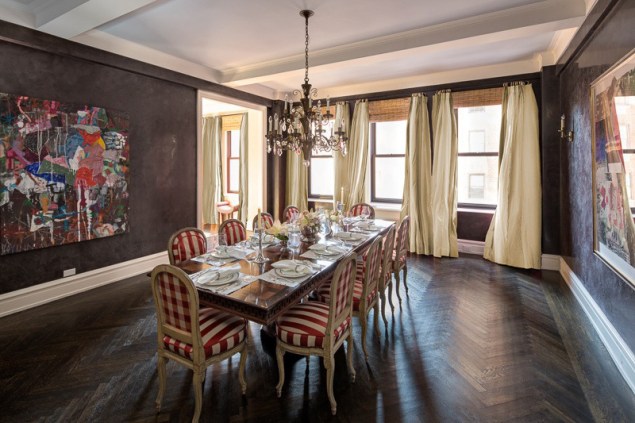 Buyers Alice Ruth, an investment officer, and Ron Alvarez, a healthcare executive, seem to pop up in Vail, Kentucky, San Francisco and Palm Beach, though Ms. Ruth's place of business is New York-based. In any event, having a New York nest will be useful for the couple's teenage son, who attends a competitive ski school in Vermont. They might want to keep him out of Midtown come New Year's, though—those ball-drop crowds can be a sight more dangerous than the slopes.