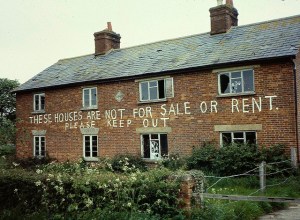 In a recent issue of the journal Planning, Theory and Practice, Laura Wolf-Powers, a professor of city and regional planning at the University of Pennsylvania, explores the responses of community development practitioners to the ravages of mortgage foreclosure, home vacancy and general neighborhood deterioration—particularly in the United States' most distressed urban precincts—during the so-called Great Recession. Her article, titled "Understanding community development in a 'theory of action' framework: Norms, markets, justice," splits community planners' responses to the mortgage crisis into three large groups—each of which receives (rather opaque) titular reference.
In attempting to mitigate the effects of economic calamity, Ms. Wolf-Powers writes, one group relied primarily on reviving civic norms in ailing communities—strengthening "associational bonds among community members" and reviving "dormant networks of neighbourliness [sic] and mutual aid." (Practically speaking, such strategies might have involved common-sense fixes like encouraging "saving money, becoming employed, and valuing education," as well as "changing the social character of predominantly poor neighborhoods by introducing middle class households" and spurring the upward mobility among low-income households.)
A second group preferred a somewhat more aggrieved and combative stance, pursuing social justice by urging "community development practitioners to map and analyse power relationships, to develop leaders and strategists from within marginalized communities, to have people-oriented as well as place-oriented objectives, to create linkages with organizations at scales beyond the local and (most of all) to be prepared for confrontation." The third contingent, Ms. Wolf-Powers posits, favored market-driven solutions—"engaging the private sector in neighborhood transformation." Such projects, she writes, quoting another academic paper, aim to "address the 'isolation and disconnection from mainstream economic activity' that is understood as the main problem afflicting struggling households."
Though development practitioners and the public and private mechanisms that fund them have often been sanguine about the ability of these three schools of thought to co-exist in the same communities, Ms. Wolf-Powers finds inherent conflicts among them, which, she suggests, have hampered the ultimate delivery of relief to struggling neighborhoods and households. Practitioners inclined toward the primacy of social justice, for example, are apt to bristle at community groups focused on rebuilding local civic networks, finding their efforts too local and undemanding of public-sector support, and thus allowing the state to withdraw further from already under-served areas. Market-centric thinkers meanwhile judge other paradigms wanting, Ms. Wolf-Powers says, for "wrongly casting neighbourhoods as autonomous socio-economic entities (i.e. disconnected from their metropolitan regions)" and for "neglecting the private sector." The civic and social justice-minded fear that market-based solutions might displace longstanding residents from their communities.
In the tradition of academic writing, Ms. Wolf-Powers' paper can be a bit on the wordy side. And its implications extend well beyond the city's borders. But as Bill de Blasio's New York considers how best to foster social mobility in still-struggling portions of the city—to improve the affordable housing supply and generally establish a more egalitarian metropolis, Ms. Wolf-Powers offers useful and energizing food for thought. Read her work in full here.