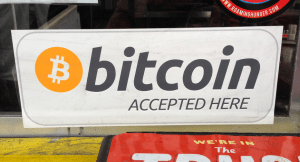 While you could have used Bitcoin to bet on the World Cup or purchase 50 Cent's latest album, there are still very few outlets willing to accept your confusing Internet money.
A new startup called My Coin Solution launched to help make accepting Bitcoin effortless for online vendors.
"There's web developers for the web, and we're sort of the bitcoins developers for bitcoins," Co-founder of My Coin Solution, Adam Kitain, told Betabeat, adding that they're "trying to make Bitcoin available to people who aren't tech or Bitcoin savvy."
Bitcoin companies like BitPay and Coinbase deal with the buying, selling and exchange of bitcoin themselves, but that doesn't help retailers who don't know how Bitcoin works in the first place. My Coin Solution actually works with companies to teach them what they need to know and completely handles the implementation of the systems needed to start taking Bitcoin.
"Accepting bitcoins isn't difficult per se, but there's definitely nuances, tricks and technical hurdles that companies have to jump," Mr Kitain said.
Although Bitcoin has experienced a huge boom in interest over the last few months, interested companies are still confused about what exactly bitcoin is and how it works. That knowledge gap is the biggest obstacle for businesses who could benefit from Bitcoin, Mr. Kitain said.
Bitcoin can be beneficial to businesses for a number of reasons. Firstly, receiving payment through Bitcoin can save companies a ton on transaction fees. Credit card companies and other ecommerce mediums like PayPal collect around three percent, but Bitcoin transaction fees are free for the first year and only one percent thereafter.
Additionally, vendors aren't susceptible to lose money to fraudulent chargebacks when the payment is made with Bitcoin. Merchants can still refund Bitcoin payments on their own, however.
There's also the phenomenon known as the Bitcoin bump: when business start accepting Bitcoin, it makes them look cutting edge, and the cryptocurrency fanatics show up for the sole reason of spending their bitcoins.
"The community is growing quickly, and it's full of people who have them and want to spend them," Mr. Kitain added.
Consumers who use Bitcoin find the payment method easy, versatile and, most importantly, safe.
"You have to give so much info up for a merchant to charge your credit card, and as we know, it may not be safe. It can be stolen," said Mr. Kitain while reminiscing on the recent Target scandal along with other major breaches.
My Coin Solution has already helped a handful of businesses join the Bitcoin world, and with the movement just beginning to take off, it's likely more and more businesses and consumers will want to join very soon as well.