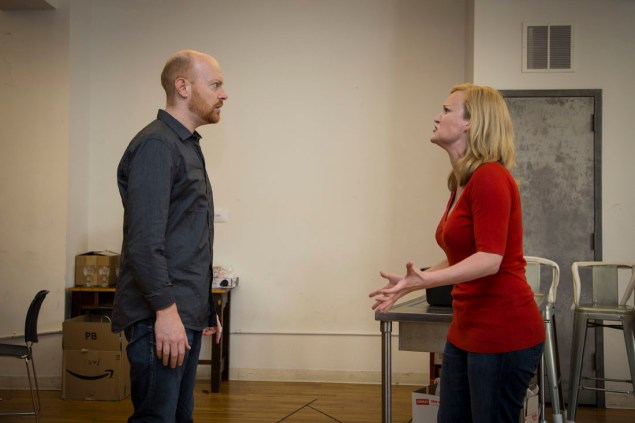 Seven years ago, Theresa Rebeck told The New York Times that her plays are about "betrayal and treason and poor behavior—a lot of poor behavior," but it took her a few more years to actually call a play Poor Behavior. Many—indeed, most—of her plays qualify for that title since her characters score notoriously low in the deportment department. Otherwise, what's the fun of it? Where is the drama in good behavior?
"I think maybe when those words flew out of my mouth was when the seed of that title was planted in my mind," she told the Observer. "I wrote this play not long after that."
Poor Behavior premiered at L.A.'s Mark Taper Forum in 2011. Now, for the East Coast edition, she has reworked, revised and rethought the piece, and it starts previewing July 29 for an August 17 opening at The Duke on 42nd Street, with Heidi Armbruster, Brian Avers, Jeff Biehl and Katie Kreisler. It is the curtain-raiser for Primary Stages' 30th season and the 15th Rebeck play to be mounted in New York.
No other American female playwright has had that many new works staged in New York. (Lillian Hellman and Tina Howe tie for second place with a dozen each.) "I've written more plays than that, obviously, but I've only had 15 serious Broadway and Off-Broadway productions," she clarified. "I feel it takes you a while to know who you are as a writer and then to have a chance to move through time with this task."
She practically apologized for her productivity. "It's hard to slow down your brain. If my brain is left to its own devices, it behaves poorly and attacks me. It gets a little OCD, and it's not nice to me, so I really do need to keep occupied. I do tend to be constantly perturbed by problems that are out there. A lot of people say to me, 'Where do you get all your ideas?' And I reply, 'Where don't you get them?' I'm constantly getting dinged. I think if you write a lot and get really good at it, then it's like practicing the piano, like breathing. Every now and then, I'll be in a conversation and say, 'Just a minute,' walk away to write stuff down. It's something you constantly do. It becomes part of the whole organism at a certain point. Also, it takes so long for plays to get done—years, sometimes—because of the way the system now works. If I had to wait after finishing a play, who knows what terrible mischief I can get into?"
Despite this impressive volume of work, Ms. Rebeck manages never to repeat herself. Each of her plays surveys a universe distinctly its own.
Spike Heels, which marked her Off-Broadway debut in 1992, was premised on the Anita Hill-Clarence Thomas brouhaha. Her first for Broadway, 2007's Mauritius, was a raucous tussle over a rare and valuable stamp. Our House explored the messy merging of reality TV and network news. Seminar looked in on the nasty mentoring of a post-college class of novice novelists. The folly of putting film stars on Broadway in a lost Kafka play was kicked around in The Understudy, and Dead Accounts had the neat trick of accessing the unspent bank funds of dead people.
Poor Behavior follows a path favored by Who's Afraid of Virginia Woolf? and God of Carnage—a booze-fueled, mixed-couples, match that shakes both marriages. Up to a point, it has a real-life reference: the same situation, but not the plot it provokes.
"My husband and I were at a country house with some people we'd known for a long time, and things went south," she recalled. "Suddenly, we found ourselves stuck up there with them. In the play, it seems the whole action of the first act is: 'If things go wrong, don't the rules of society say you pretend it's O.K.?' This strange institution, the country home, is meant to be a refuge—a place to go and relax—but it's also a kind of crazy fortress. You can't seem to get out of it when you need to. Then, larger problems of who you are in the world and what's happening to your marriage get stirred up when really the problem is just how to get these people out of our house. There's something so tangibly moment-to-moment in that, and it's exciting to write."
It was even exciting for Ms. Rebeck to rewrite. The L.A. launch, she said, was "a jumping-off point" to get deeper into her characters—notably, Ian, the instigator of Poor Behavior. "I loved that production, but I felt, ultimately, the audience wasn't entering the play in the way I wanted. I wanted them to understand Ian. He does crazy things, and I wanted to be sure they followed the logic of what he was doing."
In the new-and-improved version, the age of all the characters has been lowered, and Ian has gone from British to Irish. "I always wanted the character to be an expat—someone who had seen this country from the other side and come here with a belief in America. One thing that I realized when I was working on the play was that the Irish yearn for America in a way the British don't. I had a specific idea about Ian, and the fact that he was British was interfering with the way people perceived him."
The reason that Ms. Rebeck's characters stand up straight, regardless of the far-flung situations in which they find themselves, is that her plays are character-centric. "I write from the inside out," she said. "Generally, I tend to stand inside the characters and then follow them around, and that occasionally gets me into trouble."
Translation: her television experience. That's one of the reasons why she bolted from the Smash series after a year on the frontlines fighting the suits about the destinies of characters she had created. 
"They would say, "We want Binky to do this,' and I'd say, 'Hmmm, I can get Binky to do A, B, C and D, but I cannot get Binky to do H or Q because Binky would never do that.' It would make them crazy. I actually think there are not enough people like me willing to say in Televisionland that Binky would never do that. The shows where there's the integrity of the storytelling around characters, you see it—and shows that don't because of political structures that surround them, you see that, too."
Smash crashed and burned a season without its pilot, but Ms. Rebeck made it safely back to theater, where her characters pursue fates—and poor behavior—to their hearts' content.