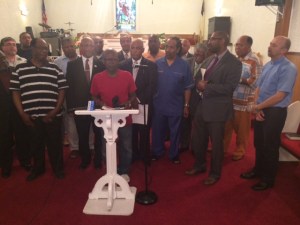 NEWARK – A group of more than 25 Baptist ministers from Newark and around New Jersey gathered at a church not far from Newark Airport to ask why United Airlines has yet to raise airport workers' wages in compliance with recently announced Port Authority of New York and New Jersey changes and stated that they are joining protests designed to convince the major airline to comply.
"We are New Jersey leaders with a vested interest in the economic vitality of our region. We need good jobs and reasonable investments in our communities because our families cannot flourish without them," said Rev. George B. Martinez, president of the Baptist Ministers Conference of Newark, an organization that represents more than 80 houses of worship in New Jersey as well as about 8,000 congregants. "We support Newark Airport workers in their struggle for respect, living wages, benefits and a contract. We call on United Airlines to be a responsible corporate citizen and to respect its sub-contracted employees by honoring the new standards set by the Port Authority."
Martinez announced that his organization's participating churches would be launching a community petition drive to support the workers' demands, with the petition to be delivered to United in September.
"Our communities need good jobs to achieve economic stability," Martinez said at the ministers' press conference, held at Promised Land Baptist Church in Newark's South Ward, about a mile from Newark Airport. "United Airlines needs to respect New Jersey."
The Port Authority announced last month that new minimum wage rules for non-trade labor service contract workers of entities doing business at John F. Kennedy, Newark Liberty and LaGuardia airports would soon be in effect.
According to a June 13 Port Authority press release, effective July 31, 2014, wages for workers performing covered services at these airports will increase by $1 per hour for those earning $9 per hour or less. Effective February 1, 2015, the wages for these workers will increase to $10.10 per hour. Once the wage level of $10.10 per hour is established, beginning February 1, 2016, wage levels will be indexed to the Consumer Price Index for Urban Wage Earners and Clerical Workers. In addition to the wage increases, all contractors subject to the policy and these rules shall provide their workers with a paid holiday for Martin Luther King, Jr. Day.
In copies of correspondence between the Port Authority and major airlines such as Delta, JetBlue and American Airlines dated earlier this year and obtained by PolitickerNJ.com, corporate representatives of the aforementioned airlines said that they would comply with the Port Authority's changing guidelines about raising airport worker pay. Only United disagreed, stating in a letter dated March 17, 2014 that the raising airport worker pay would "raise significant legal issues" and other "issues of concern" for the airline.
As a result of United's apparent decision not the raise the airport workers' wage in compliance with the change announced by the Port Authority, a group of more than 25 workers, labor union leaders and local politicians gathered at Newark Airport on June 18 demanding that United grant the same wage hike to its workers provided by other large airlines.
"United Airlines is the largest airline at Newark Airport. It controls 70 percent of the air traffic at Newark Airport," said Darryl Scipio, an organizer for the labor union Service Employees International Union (SEIU) 32BJ. "But we want United to know that they're not doing enough for Newark, and we're going to take action."
"United requires its suppliers to comply with all local, state and federal wage requirements. Meanwhile, the proposed wage regulations are under review during a comment period," responded United spokesman Rahsaan Johnson in an email to PoltickerNJ.com from the airline's Chicago headquarters. "United supports fair wages for all of its employees and vendors, and we will continue to work with the Port Authority directly on this issue."
But John Wilson, a baggage check worker at Newark Airport, waving petitions signed by his fellow workers in his hand, felt that support was coming faster for the workers' cause from a place appreciated by those standing behind him on Monday.
"Working conditions [at Newark Airport] are traumatic at best. United is playing a stalling tactic that eventually will have a de-stabilizing effect on the Newark community at large," Wilson, 63, of Irvington, said. "We disagree with these tactics, and we realize that in doing so, we're going up against opposition from our employers. But we're not afraid of opposition, because we know that Christ is on our side. In any battle, he will win."