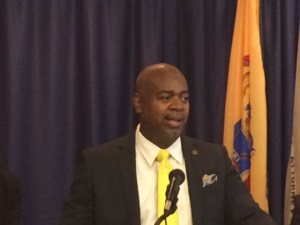 NEWARK – Although one state legislator has called for New Jersey to reinstate the death penalty following the shooting death of a Jersey City police officer, Newark Mayor Ras Baraka voiced another opinion on what some advocate as the ultimate way to fight crime.
"My personal opinion is that I don't believe the death penalty is a deterrent to crime here in the city of Newark," said Baraka at a Tuesday news conference at the downtown office of U.S. Attorney Paul Fishman which announced the results of a federal investigation into the Newark Police Department. "What happened in Jersey City was horrible, completely senseless and the actors should be prosecuted to the fullest extent of the law. Ultimately, what we're talking about here in Newark is revitalizing the system that has obviously been broken for some time."
Baraka's comments followed recent remarks by state Assemblyman Ron Dancer (R-12) after Jersey City Detective Melvin Santiago was shot and killed on July 13 in what police have called an ambush at a Jersey City drug store.
Dancer believes that New Jersey's death penalty statute, which was repealed in 2007 under the administration of former Governor Jon Corzine, a Democrat, should be reinstated for those who murder law enforcement officers or children, or who are engaged in terrorism.
But Baraka believes the road to what he called "effective and constitutional" law enforcement in New Jersey's largest city can only come through community involvement.
"Our effort to fix [the problems of Newark Police Department] helps us to reduce the kind of negative interactions that police have with our residents," Baraka said. "[It also helps us] increase the more positive interactions that help them get the kind of information and have the kind of relationships that they need with the good folks to be able to identify those that are not so good and be able to prosecute them."