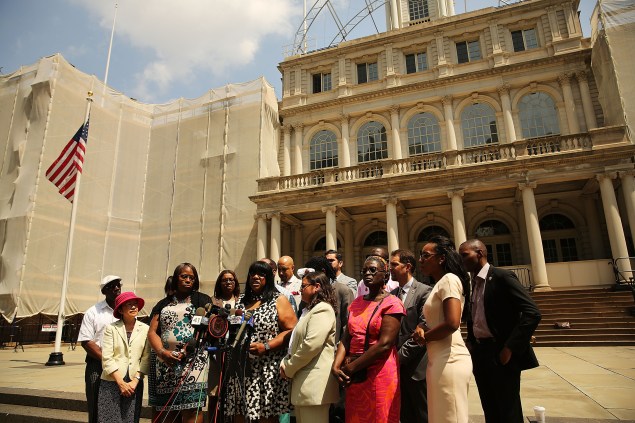 Charles Barron, a former Brooklyn councilman, promised on Monday that the apparent chokehold that may have led to the death of Eric Garner would unleash an "explosion" of rage in the city. But the explosion, at least so far, has not arrived.
Garner, a 43-year-old Staten Island man who was black, died on July 17 after NYPD officers placed him in what the mayor and police commissioner described as a chokehold, a maneuver prohibited by NYPD guidelines. Mayor Bill de Blasio, a liberal Democrat who was elected with the overwhelming support of black voters, quickly moved to comfort the Garner family and quell potential unrest before he left for his Italian vacation.
Rachel Noerdlinger, a former top aide to Rev. Al Sharpton, and now the chief of staff to Mr. de Blasio's wife, Chirlane McCray, believes wholeheartedly that minorities are willing to give Mr. de Blasio's police force "the benefit of the doubt" after the 12-year-long Bloomberg era.
"I think more folks are going to probably give him the benefit of the doubt that he will respond fairly," Ms. Noerdlinger said in an interview with the Observer yesterday.
Mr. Bloomberg, an aggressive proponent of stop-and-frisk, angered many black voters in his final term of office. Vowing to reform the crime-fighting tool, Mr. de Blasio won over neighborhoods that felt alienated by Mr. Bloomberg's approach.
According to Ms. Noerdlinger–who The New York Times, through mayoral aides, described as "instrumental" in the response to the Garner incident–the city's reaction to Garner's death would have been significantly worse if Mr. Bloomberg and former Police Chief Ray Kelly were still in charge.
"Night and day, night and day. Bloomberg helped to be an architect of stop-and-frisk and some of the policies behind what went into Eric Garner even being …" she paused, searching for a word. "So it would've been very different."
Mr. Sharpton held two rallies for Mr. Garner the Saturday after his death, including a march through Staten Island to the site of the police clash. While some marchers denounced the NYPD as "racist" and discontent undoubtedly had spread through the North Shore neighborhood, the march was nonviolent.
"I was laughing with the mayor. It feels good to be on the inside and not protesting," Ms. Noerdlinger recalled.
She added, "I think the mayor is who he is, and he's very authentic about who he is, and he is authentically against police misconduct in any capacity. The community knows that, but they also know that he has got to work within the confines of the structure that he's given, so I think folks are naturally going to be a little more patient."
When pressed on whether she thinks the "broken windows theory"–the steadfast belief held by Mr. de Blasio and Police Commissioner Bill Bratton that scrutiny of smaller, quality-of-life issues will prevent more dangerous crime, and which some have blamed for Garner's death–was still needed in an era of relatively low crime, she deferred to the mayor and Mr. Bratton. But she hinted that the question is far from resolved.
"I think there are unequivocally some negativities to it but I think that we have to, you know, there's no formula but we have to be really artful about trying to get to the bottom of what will and will not work," she insisted.
And what about that Times story, which also noted that some aides tried to "play down" her role in the administration's response to Garner's death?
"What I chalk that up to be, somebody–whoever Nikita [Stewart] spoke to and I get this–they saw Sharpton as being harmful and associated me so they didn't want the perception that Sharpton was running this ship. So I get it. I'm not mad about that, I don't care."