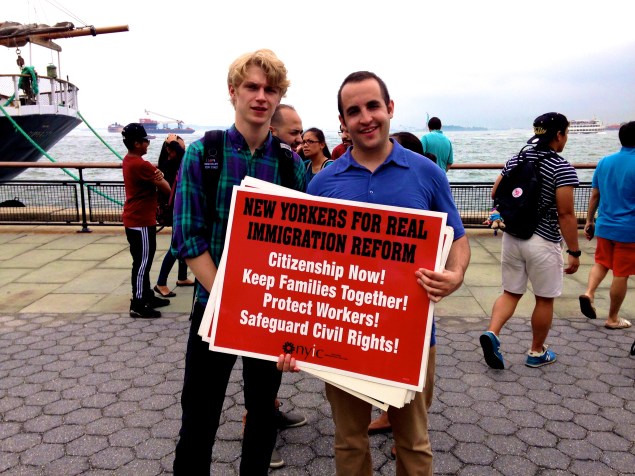 "Yes, my family immigrated here," Hallam Tuck said. "A very, very long time ago."
Mr. Tuck, a college senior wearing converse sneakers and an "I love New York immigrants" pin on his backpack strap, is just one of many young interns working at the New York Immigration Coalition this summer. In Battery Park this morning, they joined seasoned activists, immigrants, politicians and religious leaders in their cries for immigration reform.
Austin Cohen, a New York Law School student and Queens native, said that the New York Immigration Coalition has more than ten young interns, with additional students joining the team throughout the summer.
"I think that young people are interested in the cause because if you're looking to be involved in a non-profit, this is a relevant, hot issue right now," said Mr. Tuck, who attended the prestigious Horace Mann high school in the Bronx.
And while elementary school students associated with an immigrant rights organization called La Fuente explained that their relatives from the Dominican Republic face deportation, Upper West Side native Mr. Tuck told The Observer that he does not have as personal a stake in the issue.
But in a non-profit scene stocked with initiatives benefiting distant tragedies, the immigration debate is close to home for New Yorkers, regardless of their citizenship status. "There are four million immigrants in New York," explained Mr. Cohen, who studies immigration law. "So it's a leading state for reform."
These young New Yorkers don't need native Spanish to join in the recurrent chanting, "el pueblo unido jamás será vencido"— a united people will never be defeated.