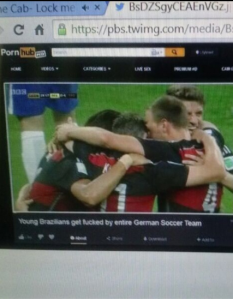 The world watched in awe as yesterday's world cup match left Brazil players and fans soar and on their knees. Crying, that is.
Porn fans got a second peek at the horrific 7-1 World Cup defeat when users began uploading game highlights to Pornhub's "public humiliation" section.
The videos have already been removed, but images of one titled, "Young Brazilians Get F*cked By Entire German Soccer Team" has gone viral. Now Pornhub is politely asking users to stop.
In the community's defense, Pornhub should've seen it coming after tweeting this during the game:
At least the Brazilian Team have new career prospects in porn…