You ever have that nightmare where you run out of gas on the FDR at 6 p.m. on a Friday? Well, Manhattanites might be in for the worst.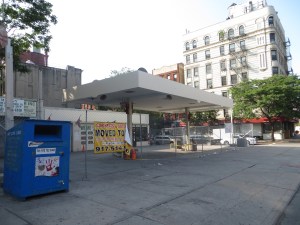 Last week, reports surfaced that the last gas station in lower Manhattan is slated to close. The BP Station and auto shop on 24 2nd Ave. was the last holdout in a string of gas station closures throughout the past year. Another BP location at 300 Lafayette is due to become an office tower, while a Mobil station at 11 Ave. and C was sold as a mixed use property as per a DOB record, as first reported by The Real Deal.
According to an employee at the soon-to-close BP station, owned by Harris Kalish, also the proprietor of the BP spot at 23rd and the FDR (which will soon be the southernmost gas station on the East Side), "Everybody is crying and getting frustrated," as lines spin out of control. Even though there has been a recent boom in business, the unnamed employee stated that taxi and livery cab drivers are heading to Brooklyn and Queens to fill up their tanks. In a telling statement, he remarked that people, "care more about high rises," than fueling their vehicles, and potentially getting stuck on the highway.
David Pollack, spokesman for The Committee for Taxi Safety, was ambivalent about the lack of locations for cabs to fill up, but optimistic that drivers wouldn't run into problems. He said, "Taxi drivers are resourceful, yet as gas stations disappear due to high real estate prices, other boroughs are certainly an option for those who change shifts in places other than Manhattan. Right now, all I can say is God bless Hess on the Westside!"
The closure of the three mainstay downtown gas stations wasn't only felt by taxis. At the BP on Lafayette, one of two spots downtown that are in operation until the beginning of next year, cars and cabs alike were crowding pedestrian walkways during the morning rush. Julius Brown, a Verizon technician who drives his work van through lower Manhattan everyday stated, "This is pretty much the only gas station south of 23rd street. It's a shame. If I was driving my own car and it ran out of gas, I'd be pretty upset." He continued to lament the lack of fueling locations in the area, "I don't know why they're closing. Everybody needs to come here, they can charge what they want, but it's Manhattan real estate." Still shocked by the news that his daily routine will have to be altered, Brown asked, "Really in six months?"
Kelly, a longtime commuter from Long Island City who was recently informed of the future demise of downtown fuel, "Came over the Williamsburg Bridge on empty, and didn't sweat it because I knew this place was here. If you run out of gas in the City, how do you get out? Pretty soon, I'll have to make sure to fill up in Queens so I don't run into any problems."
Distraught by the news, Spencer, a Harley Davidson commuter from Tribeca who works in Chelsea, is in the process of reconfiguring his morning routine, in order to avoid car trouble. He said, "I used to use the place [gas station] on 14th Street and it was great. It was an entry point to the West Side Highway. In fact, there used to be one near Canal Street, too. It's a pain and I'll have to plan better … to figure out a place to fill up, while avoiding the lines at 23rd street if that's even possible."
Summing up the situation, Joe, a Brooklyn native remarked, "If you live here [Manhattan], you're taking cabs, trains, buses whatever. If you're from another borough or from out of town … you're pretty much screwed. But good for the guy who's selling this place."
This journalist's last encounter at the downtown gas station scene was with prolific and apparently outspoken actor and restaurateur Emilio Vitolo, known for his roles in, The Genesis Project, Sweet Home Alabama 4 and Tapestry, which pretty much said it all for New Yorkers troubled by the impending closures, though we're not sure if his comments were influenced by any unusual flare. "It's fucked up," Mr. Vitolo said. "I barely made it here and I live on Spring Street. It'll cost more money to get gas out of town. Pain in the fucking ass!"