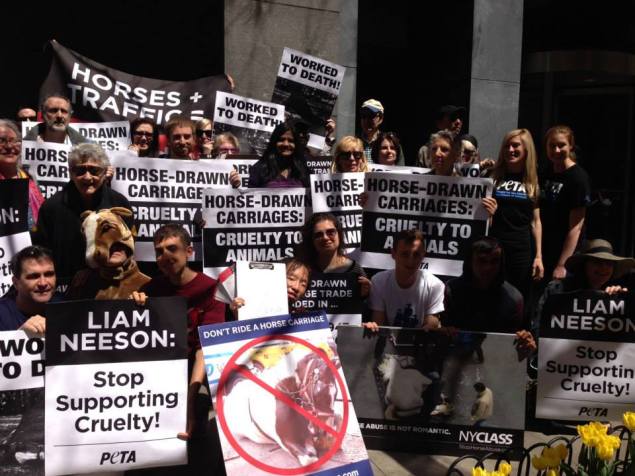 NYCLASS may be ready to put Mayor Bill de Blasio out to pasture.
The powerful animal rights group, along with other disgruntled activists in the city, is furious that the de Blasio administration has still not banned horse-drawn carriages from city streets, sources say. NYCLASS, which is short for New Yorkers for Clean, Livable and Safe Streets, declined to comment, but individuals close to the animal rights movement want Mr. de Blasio to buck up and ban the carriages–or face the consequences.
"The honeymoon is over between animal rights groups and the mayor," said a source close to several animal rights groups involved in the effort. "He's not doing anything. He said he would and it's clear the issue has been pushed to the back burner."
"Animal rights groups are pretty pissed off," the source added.
Mr. de Blasio and his advisers have been shying away from banning the Central Park-based carriages, sources say, and are not pressuring the City Council to pass a bill after promising last year the carriages would be history when he took office. Recent polls showed that New Yorkers still favor keeping around the tourist attraction, despite the arguments from activists that horses are treated inhumanely. The City Council is not united around the issue, either; Council Speaker Melissa Mark-Viverito supports a ban, but many council members are worried about the loss of decent-paying union jobs if the carriages go away.
While NYCLASS is undertaking a lobbying campaign to sway reticent council members, the moneyed political group was expecting the mayor to use his weight to press for a ban immediately. With temperatures now rising, activists fear the horses will suffer in the summer heat–and they're ready, in turn, to put the heat on Mr. de Blasio.
"A lot of things needed to happen for him to become mayor. NYCLASS was a huge, huge force behind him," explained another animal rights source. "I think that the same power, the organizing power and money you saw that helped propel Bill de Blasio to City Hall can be turned against him."
When Mr. de Blasio was a long-shot contender in last year's Democratic primary, NYCLASS ran an independent expenditure against his top rival, ex-Council Speaker Christine Quinn. The negative attacks damaged Ms. Quinn early in the race and benefited Mr. de Blasio, who framed himself as her liberal alternative.
Since then, reports surfaced that the FBI is investigating NYCLASS for possibly illegally coordinating with the de Blasio campaign. Sources close to the animal rights group deny there is an investigation and Mr. de Blasio has said he did nothing wrong.
Mr. de Blasio's office did not immediately return a request for comment.