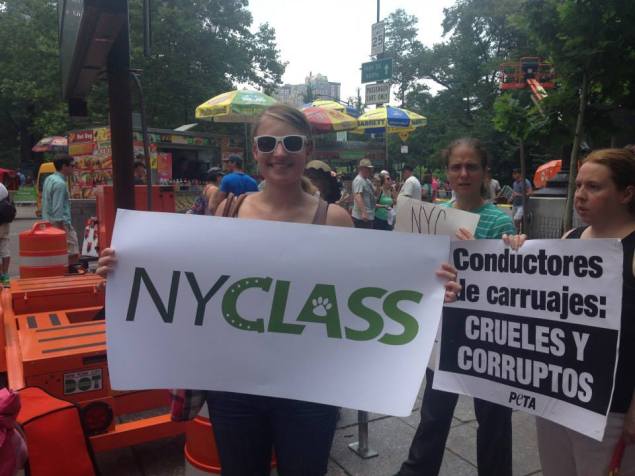 NYCLASS really doesn't want the hooves to meet the road.
After venting their frustration with the de Blasio administration's failure so far to ban horse-drawn carriages from city streets, the animal rights group is planning a City Hall rally tomorrow and canvassing events in three boroughs to ramp up new pressure on elected officials. Their aggressive posture may be paying off–sources say the City Council is coming closer to introducing legislation to ban the carriages, though no definite timeline has been set.
"Passionate NYCLASS volunteers will be canvassing in council districts to show support for the mayor's plan to remove horse carriages from New York City streets," Allie Feldman, the executive director of NYCLASS, told the Observer. "We are pulling out all stops to end the unsafe and inhumane practice of horse carriages operating in busy midtown traffic."
With budget season over, Mr. de Blasio is preparing to lend more attention to the carriage issue, sources say. There is an eventual plan to bring legislation, driven by the mayor's office, to the City Council for a vote. In the mean time, NYCLASS plans to canvass in Queens and Brooklyn on July 26 and in Manhattan on August 2. Petitions will be delivered to the City Council.
NYCLASS-which is short for New Yorkers for Clean, Livable and Safe Streets–entered the political fray last year when they launched a successful independent expenditure effort against former Council Speaker Christine Quinn, then a top mayoral candidate. Mayor Bill de Blasio, lagging in the polls during much of the race, saw his fortunes rise as Ms. Quinn's fell and promised the group that when he got to City Hall, the carriages would be gone.
Seven months into his tenure, Mr. de Blasio has not delivered on his promise and federal agents are reportedly investigating whether there was any illegal contact between Mr. de Blasio's camp and NYCLASS' independent expenditure. Animal rights activists who believe the carriages are inhumane are also frustrated with the new mayor and the de Blasio administration is now working behind-the-scenes to allay their concerns, sources say.
"We're considering a range of options that move the horses off our streets, safeguard the animals, and protect the livelihoods of the men and women who provide carriage rides," said Wiley Norvell, a spokesman for Mr. de Blasio.
Council Speaker Melissa Mark-Viverito, along with a small group of council members, unequivocally supports a ban, but many council members are undecided. The union representing the carriage drivers is vehemently opposed to the ban and council members want to ensure there are no jobs lost if the carriages disappear.
When legislation is eventually introduced, however, council observers believe it will pass if Mr. de Blasio exerts any internal pressure. The left-leaning body has a large bloc of council members loyal to the mayor, a fellow liberal Democrat.